The purpose of my newsletter is to give you important information that is censored in the mainstream media. If you would like to keep up to date with the latest information, then please follow me on Twitter, Facebook or Telegram.
"The way you get democracy to function is by informing the public." – Robert Kennedy Jr.
Carl Sagan: "Science is more than a body of knowledge. It is a way of thinking; a way of sceptically interrogating the universe with a fine understanding of human fallibility. If we are not able to ask sceptical questions, to interrogate those who tell us that something is true, to be sceptical of those in authority, then, we are up for grabs for the next charlatan (political or religious) who comes rambling along."
"Never worry about who will be offended if you speak the Truth. Worry about who will be misled, deceived and destroyed, if you do not."
"Two roads diverged in a wood, and I took the one less travelled by and that has made all the difference." — from The Road Not Taken, Robert Frost, 1915
Though the newsletter chapters interrelate, they are divided into five sections and have a common realisation that a cabal of corporate elites have captured global trade, global governance, mainstream and online media, and ultimately many of our minds. Please click on the section you are interested in below.
As a stenographer, I link to an article or audio and paste a key paragraph or two. My most trusted websites are platforms for journalists who don't compromise on the truth and have thereby been shunned by the mainstream media. These include; Global Research News, Children's Health Defence, Geopolitical Economy Report, The Grayzone, Unlimited Hangout, 21WIRE FORUM, UKColumn; The Duran, Robert F Kennedy podcast, The Jimmy Dore Show, Palestine Declassified, Alex Krainer, Mattias Desmet; Local Futures, SUSTAIN, Farm Gate, Dr John Campbell and Russell Brand. On Telegram, For The People and Assange News.
---
Wise Farmers Series
Richard Young was an organic farmer and brilliant ecologist. Born into a farming family in the Cotswolds. Richard divided his working life between farming, researching and campaigning for better lives for farm animals alongside organisations such as the Soil Association and the Sustainable Food Trust. Please give his video a like and a share. You can also watch the full 15min interview here.
Richard said, "We make a modest profit from raising our own animals organically. We've not used any fertiliser at all or any pesticides. We've got some weeds, but we think they're beneficial. We try to farm our animals in the most natural way possible, so they have a happy life while we are looking after them. People are worried about biodiversity, but they think that you can do that by getting rid of all grazing livestock systems. The ones we need to get rid of are the very intensive ones."
Richard Young 1950-2023
---
I took podcaster Richard Vobes (8,8k views 9 Oct 2023) round my walled organic veg garden to rant about our sick food and farming economy. The government and corporations are not interested in giving us healthy food, so it is up to us to use the power of our purse and buy it. Avoid the supermarkets as they charge excessive premium prices on organic food. If you want out of the matrix, join a community, buy or adopt a plot of land, get an allotment and grow your own food.
---
Food, Farming & Ecocide
The UK government is seeking a trade treaty with the US where food is contaminated with animal contraceptives and antibiotics along with all the other toxic ingredients injected into beleaguered livestock to make them grow faster and produce more milk.
Read; Revealed: Joe Biden and Rishi Sunak seek UK/US trade pact before 2024 elections; Politico, 3rd Oct 2023
'The proposed agreement would go much further than anything considered in public so far, with the United States Trade Representative (USTR) proposing to deal with thorny issues like agriculture across 11 chapters which also include labour rights, the environment, supply chains, regulation of services, digital trade documents and others.'
---
US Presidential candidate, R F Kennedy Jr. has been saying for years that the government agencies that regulate food standards are staffed by corporate stooges who walk back and forth through the revolving door of corruption between the agencies and the giant food corporations. To compete, the government is lowering our standards.
Read; Animal Contraceptive and Antibiotics in Popular Fast Foods, Testing Reveals, Suzanne Burdick, Children's Health Defense, 16 October 2023;
'Kids may unknowingly be consuming an animal contraceptive when they eat a chicken sandwich at Chick-fil-A. In a new report, Moms Across America (MAA) found veterinary drugs and hormones in foods sold by the 10 most popular fast food restaurants in the U.S.
The nonprofit MAA this month released results from food samples tested for veterinary drugs, including antibiotics and hormones. Health Research Institute, a Fairfield, Iowa, nonprofit independent lab, conducted the testing.
The results showed that a Chick-fil-A chicken sandwich contained nicarbazin, an antiparasitic that also functions as a bird contraceptive.
Sixty percent of samples from the U.S.' top 10 fast food chains also contained the antibiotic monensin, which can cause severe harm in humans and remains unapproved for human use by the U.S. Food and Drug Administration (FDA).
Zen Honeycutt, MAA's founder and executive director, called the results "shocking" and "disturbing," especially because some fast food chains supply school lunches.
"With infertility problems on the rise, the reproductive health of this generation is front and centre for us, in light of these results."
---
To avoid contaminated imports and free farmers from exploitation by unscrupulous supermarkets, we can buy fresh unprocessed food from our local farmers via box schemes, Community Supported Agriculture schemes, local farmers markets and via websites like Big Barn.
Read; Farmers plan blockades against supermarkets depots; Farmers Weekly, 7th October 2023
"We need the whole of the UK to unite. Farmers and public as one. British fightback has begun."
'There is growing anger within the UK agricultural industry, which has seen British farmers struggling to survive due to a "perfect storm" of rising farm input and energy costs, reducing levels of farm support and stagnant prices.
Many farmers are receiving negligible profits for their produce as food prices rise and supermarkets boast record profits.
However, there is a feeling within the industry that retailers are failing to pass on a fair share of the returns to farmers."
---
Supermarkets are cheating their suppliers by arbitrarily rejecting crops, reducing the agreed price and not paying the supplier for up to twelve weeks.
Listen to Farming Today, BBC Radio, 23rd Sept at 12m 35s;
Tessa Elliot, Potato Grower; "We grow potatoes, have them picked and stored for them, ready for when their orders come in, but we might not necessarily get paid for up to six weeks after they have sold the produce in the supermarket, which I struggle to understand. You know, we don't go food shopping to supermarkets and at the checkout decide to pay in six weeks, buy now pay later, so I don't think it's fair to treat the farmers in the same way."
Presenter; "It's quite brave of you to stick your head above the parapet, because many farmers won't talk about this because they're afraid of having contracts ended and not being taken on again. Why are you speaking out?"
Tessa Elliot; "If we don't speak up then the supermarkets will think they can keep just cutting us up by ten pounds on the contract, well most of their food produce has gone up by 30%, something has to change."
---
Riverford, which also buys produce from local farmers, have their own strict code of practice that honours agreements with the suppliers, and they have five asks for supermarkets to meet the same standard of honesty and transparency.
Watch: Supermarkets act now: Get Fair About Farming. Guy Watson, Riverford Organic Farmers; 19 Sept 2023
'Almost half (49%) of British fruit and veg farmers fear they will go out of business within the next 12 months. 75% report that supermarket behaviour is a leading factor. Farmers live with constant uncertainty; never knowing what they will be paid or when, how much of a crop will be bought, or whether it will be rejected altogether.
Riverford are farmers ourselves, so we know this first-hand. And after years of being treated badly by supermarkets, we found a way to do things better. Over the last 35 years, we've created a revolutionary supply chain for our veg boxes that is transparent and fair to all.
Now we want all UK farmers to enjoy the same conditions we do. That's why we're encouraging major supermarkets to commit to the principles enshrined in our Fair to Farmers Charter, and get fair about farming.
Find out more, and sign our petition Reform the Grocery Supply Code of Practice to Better Protect Farmers.
The Riverford asks:
1. Buy What You Committed to Buy
Farmers grow entire crops at Supermarkets request, only to be told, once it's ready and harvested, that they don't want it any more. Buyers should make firm promises to buy and
keep those promises.
2. Pay On Time
UK farmers often have to wait up to 12 weeks to be paid – a practice that's illegal in the EU. Buyers should pay as quickly as practically possible, guaranteeing farmers a regular, reliable income.
3. Commit for the Long Term
Farmers should be able to invest in their businesses with confidence, and not live with the constant anxiety of short term contracts. Supermarkets should build long term relationships with farmers, unless there are good reasons to look elsewhere. If they do need to change suppliers, they should give good notice and honour all agreed purchases.
4.Agree on Fair Specifications
Fair specifications (the standards for a crop, defining size, shape and so on), should be agreed together, balancing the buyer's knowledge of what customers want with the farmer's expertise about the crop. Buyers should never use unreasonable claims about quality to wriggle out of a commitment to buy.
5. Pay What You Agreed to Pay.
Farmers are sometimes told one price when agreeing to grow a crop, and later told that they will receive much less. Buyers should always honour the price that was agreed on; a fair price reflecting the true cost of farming.'
---
Another way supermarkets screw their farmers is to fulfil their legal commitment towards NetZero, but it is the farmers who bear the costs of doing so.
Listen: Farming Today 11 Oct 2023
'A heated debate on social media has been sparked among farmers, after the Red Tractor Assurance body unveiled proposals for a new environmental label to its scheme. At the moment, Red Tractor assures consumers that food using its logo is British and meets UK minimum standards. It's proposed that the new greener farms commitment or green Red Tractor label, which would be voluntary, would come in April next year. But some farmers say they feel the supermarkets are dictating standards which will be costly for them to implement.'
Joe Stanley, Farms in Leicestershire; "The Natural Capital Services, which the greener farming commitment is talking about is carbon footprint, soil management, biodiversity creation. These are all things that farmers are expecting to be able to trade essentially in future to create in part a new income stream to replace farm support payments which are now being withdrawn.
So obviously the concern here, I think from many farmers, is that we are looking at being set up to give those things away for free to the rest of the food supply chain, to the retailers in order to help them fulfil their environmental commitment. So, instead of us being able to sell those services on and actually monetize them, we are gonna have to give them away for free as part of the Greener Farms Commitment. And of course it's being trialled as a voluntary measure but, as is usually the case with such things, inevitably will soon become the industry standard and everyone will be required to adhere to it."
"it's worth bearing in mind that only around 6% of the value of the food supply chain comes back to the farm gate as it is. This is asking farmers essentially to give away even more of the value of that food supply chain to the retailers, to the processors. And you'll see from the Red Tractor press release, there's no mention of working with farming organisations in order to achieve this."
---
A dairy tanker company suddenly went bankrupt and the administrator sacked all the drivers and locked up the tankers causing thousands of gallons of milk to be poured down the drain.
Listen: Farming Today, BBC Radio, 26th Sept,
Chris Walkland, Dairy Analyst; "I've never known a haulier to collapse so suddenly in the dairy industry, or even at all, so it was pretty unprecedented….As regards to the milk,some people would have had full bulk tanks so it would have been impossible to put the afternoon milking into that tank until it was empty, so if it can't be emptied via the tanker, then they would have had to pull the plug on the bulk tank and let the milk run into the slurry lagoon.
My estimate would be that perhaps 700-800 farmers would have been affected by the collapse of the haulier, so that's 10% of the farmers in GB. I wouldn't have a clue how much milk was tipped away, but it could easily run into a million litres."
---
Like musical chairs, one by one, farmers are forced from the game.
Listen: Farming Today 21 Oct, hears from the Welsh farmers' representative Abby Rida, Vice President NFU Cymru.
Abby Rida NFU; "Our biggest concern is at the moment we've got farmers with confidence on the floor. It's the lowest I've ever seen it. We've got a Welsh government which is asking some extraordinary things of Welsh farmers at the moment; whether that's climate change, delivering safe traceable food, or providing a landscape for people to enjoy and get out in the outdoors. And they seem to have completely skipped us over. We are the forgotten sector at the moment."
BBC Presenter; "Though, in the Senate, the finance minister said that the priority is protecting core services, jobs and people hardest hit by the current cost of living crisis. They're prioritising things like the NHS. That's difficult to argue that farmers deserve the money more than the NHS, isn't it?"
Abby Rida NFU; "Well, we certainly need to recognize that there are all sorts of important services out there and a lot of people are feeling the pinch, but we also need to be mindful of the fact that Welsh farmers are delivering for health at the same time. And I think we need a little bit of a better understanding of how complex this issue is. If we're providing an environment that is good for people's physical health, for their mental health and definitely for their nutritional health, then it is going to need that sort of support. And off the back of that, if we look at the farming budget as a whole, it hasn't altered over the last 10 years. It hasn't moved. So in real terms, if we add on inflation, farmers are already receiving 30% less than they were up to 10 years ago."
BBC Presenter; "What We're talking about here is about an 8% cut in the budget for agriculture. Realistically, what kind of an impact is that going to have? It's not a huge cut"
Abby Rida NFU; "It's the area that it's coming off. So a lot of this money is coming out of money that has already been committed to the rural communities of Wales and has yet been unspent because the Welsh government hasn't made that money available to us. A year ago, almost to the day, our agricultural minister, Leslie Griffiths, promised £20 million to enable Welsh farmers to meet the new requirements for water quality regulations. That has just disappeared off the face of the earth. So how can you make that commitment and then back away from it? Then we've also been promised windows for investment for all sorts of infrastructure on farms to make them more efficient.
And if you go onto the website, there used to be little dates on there to say; this window for your expression of interest will be opening soon and a date. And if you go on there now, all those dates have been removed. So the anticipated investment that was there and was promised has gone and how do you build stable businesses off the back of that?"
BBC Presenter; "We did ask to speak to the rural affairs minister in the Welsh government, but Leslie Griffiths wasn't available. Instead we got a statement saying the government is committed to supporting farmers and rural communities and has prioritised the basic payment system budget, which hasn't changed. It adds, we have consistently made funding available over many years to improve nutrient management on farms and support infrastructure improvements to reduce the risk of pollution."
---
With so much land being used as a speculative asset and not for farming or growing food, Gerrard Winstanley's campaign for Land Reform in the 1600s becomes relevant again today when skilled and hardworking growers and farmers are excluded from access to land by moneyed interests.
Listen, Not the BCFM Politics Show, Tony Gosling and Martin Summers with film director, Ken Loach;
Ken Loach; "The idea of common ownership and equality goes back a long way, and in a way, Winstanley was echoing John Ball, and the Peasants' Revolt in 1381. 'When Adam delved and Eve span, who was then the gentleman?'. Can I just read this from Winstanley, 'From the beginning of time the great creator made the Earth to be a common treasury to preserve beasts, birds, fishes and man. Not one word was spoken in the beginning that one branch of mankind should rule over another, and it is that sense that class division is made by man. It's not inherent."
Ken Loach; "It had two functions, on one hand it was needed for hunger, but also it was a symbol that the land belonged to the people.'
---
Regenerative farming was originally a really integrous farming system. However, instead of helping farmers adopt a genuinely regenerative system, now the farmer only has to try to reduce chemical fertilisers and pesticides. They are allowed to use the herbicide Glyphosate as long as they are allegedly improving their soil by not tilling. We have tilled the land for centuries without nearly as much harm as dousing it in a toxic poison.
Listen: Farming Today; 21/10/23
Regenerative Farmer; "I grow a diverse mix of plants in the same fields. And the idea is that every different plant has a different interaction with the soil and it exudes different sugars into the soils which feed different microbes in the soils and microbes are the key to everything in our soils.
So 85 to 90% of plant nutrient acquisition is microbially mediated. So if there are no microbes in that soil, no matter how much nutrition you throw at it, that nutrition really struggles to get into the plant. So I want to make my soils as homely to microbes as I possibly can."
"We have a maximum of 180 kilograms per hectare of nitrogen (that is more than average) that's allowed to be used."
BBC Presenter; "It's talking about showing that you are trying to stop using synthetics. If that can be demonstrated, then that's great. If you have to fall back and use a synthetic, that's okay, but we've got to see that you're trying to step away from them. Does all that mean then that this tick box that you've got has to be quite flexible? In which case doesn't it undermine itself?"
Farmer; "That's a fair point, but no, it is stringent enough to make it a robust standard."
---
Patricia Bowman, Patrick Holden (Executive Director, Sustainable Food Trust), Patrick Holford from New Zealand, Tim Spector and others met on a Zoom call to discuss the damage caused by the herbicide glyphosate to people, soils and animals.
Download and listen to The People's Food and Farming Alliance (PFFA) Conference;
Patrick Holden; "I'lI predict it's only a matter of time before Roundup will be banned everywhere, because there's no doubt about it, it's highly disruptive to our health.
Patricia Bowman; "The UK, just like the US, has this chronic disease epidemic that I believe in large part can be traced to these toxicities in our food supply, specifically, glyphosate, which is the most used herbicide of all time.
So here is a seminal study on the carcinogenicity of glyphosate. This was written by Dr. Luo Ping Zhang, who is a scientist from Berkeley. She actually served on a committee to the EPA that was called together to assess the carcinogenicity of glyphosate.
And she said, this appears to be connected to cancer, glyphosate exposure and cancer. And EPA didn't like it; didn't acknowledge her opinion. And so she went, and she published this paper, and the study concluded that exposure to glyphosate increases the risk of some cancers by more than 40%. It's just heartbreaking.
It's not only cancer, maternal exposure to glyphosate disturbs masculinization process in male pups and decreases testosterone, glyphosate causes testicular damage and decreased sperm quality via gut microbiota dysbiosis and blood testis barrier penetration that is so scary that means that glyphosate is getting through the blood testis barrier and impacting men's fertility.
Pregnant mice exposed to glyphosate showed ovarian alterations, hormonal imbalances and change in sex ratio of foetuses, urinary glyphosate levels, correlated significantly with shortened pregnancy, lengths and miscarriage – so sad. If you know someone who's pregnant, or, if you are pregnant, have them stay away from glyphosate.
This is a particularly disturbing study. Maternal urinary levels of glyphosate during pregnancy, and its connection to the distance between the anus and the genitals in newborns.
Very, very sadly they tested the urinary levels of glyphosate in second trimester, pregnant women. and then we're able to deduce that higher levels of glyphosate connected to altered distance between the anus and the genitalia, which means that it is working effectively as an endocrine disruptor and disrupting the biological development of our babies."
---
Freed by Brexit from EU laws, the Tories have lost no time in sweeping away the precautionary regulations that, however inadequate, comparatively safeguarded wildlife and human health from toxic chemicals including neonicotinoids that decimate bees and other pollinators on which our survival depends. Become a member of the Soil Association and help them stop pesticides from destroying wildlife.
Read; UK fails to ban 36 harmful pesticides outlawed for use in EU Helena Horton, the Guardian, 12 September 2023;
'Nick Mole, from PAN UK, said: "The UK is becoming the toxic poster child of Europe. The government has repeatedly promised that our environmental standards won't slip post-Brexit. And yet here we are, less than four years later, and already we're seeing our standards fall far behind those of the EU. With UK bees and other pollinators in decline, and our waters never more polluted, now is the time to be taking steps to protect nature. Instead, the government is choosing to expose British wildlife to an ever-more toxic soup of chemicals.
Of these chemicals, 12 have been classified as carcinogens, nine have been found to be endocrine disruptors, which interfere with hormones and are linked to infertility, and eight are developmental or reproductive toxins that have also been linked to fertility problems. Two are cholinesterase inhibitors that can impair the respiratory system, and one is classified as acutely toxic.
Researchers said the divergence was caused partly by a new UK licensing regime for these chemicals after the UK government decided to grant all pesticides with licences due to expire before December 2023, an automatic extension of three years. Previously, all pesticides had a maximum licence of 15 years before they had to be reapproved.
PAN is calling for the government to bring standards back in line with the EU to protect human health, the agriculture industry and the environment.
Mole said: "The emerging gap between UK and EU pesticide standards is incredibly concerning for our human health and environmental protections, but also for the future of UK agriculture as our standards fall further and further behind those of our largest trading partner. UK food exports containing pesticides that EU growers aren't allowed to use, are likely to be rejected. Given that the EU still accounts for around 60% of UK agricultural exports, the impact on farmers could be devastating."'
---
Singing from the corporate-captured NetZero hymnbook, the UK government insists that farmers must reduce their livestock herds, ignoring the fertility and biodiversity that cattle bring to centuries-old upland farms – part of a concerted plan to reduce the number of farmers and pasture fed livestock in the UK.
Listen; Can farmers reduce their livestock numbers to achieve NetZero without going bankrupt? BBC Farming Today; 17 October 2023;
'Can upland farms cut their environmental impacts and still stay in business? That's what trials in the Scottish Highlands are aiming to find out. The pressure is on for livestock cuts to reduce greenhouse gas outputs and meet climate targets, but most upland farms make their money from sheep and cattle.
A 2021 Scottish Government report said that almost half of the greenhouse gas emissions from Scottish farming come from upland farms. The vast bulk of that comes from livestock. The Climate Change Committee set up by the UK government says livestock cuts must happen to achieve Net Zero'.
Ian Wilson, NFU Highlands; "Wholesale cuts in livestock numbers reduces the whole industry, and it's already quite fragile in these remote areas, so if you reduce numbers more you reduce output, you reduce the number of people needed to be involved, and it's a whole knock-on of negatives".
Duncan Miller, farmer; "Grass is a great carbon sink and cattle are key to that. Grazing the grass allows it to grow, allows carbon dioxide for the grass to absorb it into the soil. What we've got at Tulloch Farm is a very valuable, very diverse habitat".
Ali McNight, Agricultural Advisor; "We cannot expect a farm to continue to make a living and get it to reduce half of its output. We import more than fifty percent of our beef, and I would question is that sustainable? I don't believe it is."
---
In 1991, shortly after the collapse of communism, a globalist think-tank called the Club of Rome released a document titled The First Global Revolution, in which they declared global warming as the new pretext to wage war on humanity, under the guise of 'saving the planet'—as detailed in a must-watch new documentary titled No Farmers, No Food: Will You Eat The Bugs? Surely it is hard to believe the rhetoric around climate change when the solutions are so laughably ridiculous.
Watch; No Farmers No Food, Will You Eat The Bugs? Trailer and full film
---
Read; They are POISONING our milk now Cows are being fed toxic chemicals to stop climate change, PETER IMANUELSEN; 24th October 2023
'I have something very worrying to tell you. They are planning on poisoning our milk supply in the name of stopping climate change. Of course you will not be hearing anything about this on the mainstream media, so that is why I have to write this article and warn you of what is happening.
For some reason, it has been decided that cows are the enemy. The Netherlands plan on seizing thousands of farms and reduce the number of livestock. In New Zealand, the left wing government was just defeated after farmers united to oppose them and their new "fart tax" to reduce emissions from cows.
But now countries are beginning to feed TOXIC chemicals to cows in order to get them to have less burps and farts. Yes, you read that correctly! Why is that you may ask?
To reduce climate emissions and meet the 2030 climate goals of course!
By the year 2030, the agriculture industry has to reduce climate emissions by 5 million tons CO2. In other words, this of course goes back to the UN Agenda 2030 "global goals" which none other than Bill Gates himself is funding. You can read more about that here:'
---
Did anyone ask us, the citizens, if we accepted the narrative around climate change that is allowing politicians to impose draconian rules to control and subvert us into compliant idiots? I fully support the Workers Party's call for a referendum on NetZero. Peter Ford, English diplomat who served as the British ambassador to Bahrain from 1999 to 2003 and Syria from 2003 to 2006, explains why;
Watch Net Zero Interview with Peter Ford,. Resistance TV; usually hosted by Chris Williamson, Former Labour MP and this episode with Sian Bloor. 27 September 2023;
Peter Ford; "The politicians can't be trusted even when they say they want to go slow or slower on Net Zero, they speak with a forked tongue, they certainly can't be trusted to have the the will power or possibly even the capacity to be able to change the legislation, and changing the legislation is absolutely crucial because this country is recklessly committed by law to deliver these series of targets for achieving Net Zero by 2050. Governments can be hauled before judges if they fail to meet these targets, and there are a series of complex interim targets. So even if a government, a sensible government, some hope we have of that, but even if we had a sensible government their hands would be tied, they would be prevented by law, from being sensible about Net Zero. There's no hope that, left to their own devices, they will call for a referendum. They will have to be forced to accept a referendum.
Does this remind you about something else big that happened a few years ago? Brexit, yes it is exactly the same; the structure, the situation is the same. The people want to put an end to a reckless enterprise whether it was an ever closer union of Europe or an ever closer approach to economic suicide, and the people must have their say. You can't leave it to the politicians. And as happened with Brexit, why did the politicians agree to a referendum when all the main parties were against having a referendum? Well they did it because Nigel Farage invented a new party, the Brexit party, that threatened to split the Tories.
We must follow similar, not identical, but follow a similar strategy with our referendum. We need to galvanise public opinion and present the referendum as the Tories' only hope of ever being reelected. So the idea is to force Sunak to put a referendum into the Tory Manifesto. It will be his desperate hope of not being thrown out by Starmer. And we know that if Starmer gets in, then workers can kiss goodbye to their gas boilers, to their petrol cars. They're going to be poorer, colder and more miserable. So the referendum is the way forward."
---
A few giant corporations, unaccountable except to make profits for shareholders, are leading us towards a disaster future, praised by fake eco modernists, where farms are replaced by labs that will not produce food but artificial nutrients with secret ingredients, protein powders, cell meat and genetically modified microbes.
Read; Resisting Genetically Mutilated Food and the Eco-Modern Nightmare: Together, 'Just You and Me'; Colin Todhunter, Global Research, 18 September 2023;
'Facilitated by the likes of the Rockefeller Foundation and the Bill and Melinda Gates Foundation, they uproot highly productive traditional agriculture, saying it is deficient. They poison the soil, the food, the waterways and people. But that's not enough. They pirate, own, and genetically engineer, the seeds. The chemicals and engineering do not result in more or better food. Quite the opposite. Diets have become narrower, and the nutritional content of many food items has progressively diminished (see McCance and Widdowson's the Mineral Depletion of Foods). Moreover, food secure regions have become food insecure.
But it goes beyond this. Consider the amount of killer-chemicals that the likes of Union Carbide's promised techno-utopian consumer society (Union Carbide produced numerous other similar brochures to the one presented above, promoting the role of science and technology across all sectors) has gifted to humanity in everyday products from shampoos to toys, pans, packaging, sofas and tins.
It is notable that glyphosate, the world's most used agricultural herbicide, began life as an industrial chelator of minerals in metal pipes to prevent blockages and deterioration. It now ensures mineral depletion/nutrient deficiencies in the human body. Glyphosate affects human soil – the gut microbiome – which directly feeds the major organs. Little wonder we witness a proliferation of illness and disease.
But forget about what has become modernism's spiralling public health crisis – don't forget to take that money-spinning experimental booster jab because, remember, they said that they really care about you and your health.
Meanwhile, bioscience parks across the world expand and promise an even more marvellous techno-dystopia than the one already created. They are working on injecting you with nanotechnology to 'cure' you of all the diseases that the modernist type of thinking, products and technology created in the first place – or on manipulating your DNA-physiology to hook you up to the internet (of things). The patents are there – this is not speculation.
And as these bioscience parks expand, their success is measured in annual turnover, profits and 'growth'. They want more and more 'talent' to study life sciences and health subjects and to take up positions at the biotech companies. And they call for more public subsidies to facilitate this. More kids to study science so that they can be swept up into the ideology and practices of the self-sustaining paradigm of modern society.
---
Though Zach Bush talks about regenerative farming and the importance of healthy soils, in the clip I focus on his work exposing the toxicity of glyphosate for both us and the soil in order to emphasise that glyphosate should not be allowed in regenerative agriculture.
Listen; The Power of Regeneration for a more beautiful world.26 Sept 2023; Zach Bush,MD is one of the few triple board-certified physicians in the USA with expertise in Internal Medicine, Endocrinology and Metabolism, and Hospice/Palliative care.
"The Department of Defense had long been at the forefront of understanding the energetics of biology and disrupting that through Agent Orange. Monsanto was the company that was making Agent Orange. And when the war wrapped up, suddenly they lost the majority of their income stream. And so they were a small company in the 1970s. And they debuted another organic phosphate that was slightly less toxic in the form of glyphosate. And glyphosate was patented in 1959 and never put on the market.
A Japanese researcher developed that organic phosphate would be purchased in 1974 by Monsanto, and then put on the market as Roundup in 1976. And the difference between glyphosate and Roundup is about 16 molecules that they added to the glyphosate to make it penetrate cells even more effectively.
So they basically wanted to make it more toxic to cellular metabolism, to make it more effective as a weed killer. And in 1976, when they debuted Roundup, it was a gift from God for farmers. Like farmers were fighting weeds and all of this because we were in the post World War II farming era, which in the United States and really globally, but definitely in the US, was a story of a loss of labour. And so after World War II, none of the farm kids came back to the Midwest to go farm again. They all went to the cities, they all, you know, went into higher education.
There was this huge exodus from the middle of the country out to the coast. There was a huge exodus to high tech jobs. And, you know, the Industrial Revolution was well afoot by the end of World War ii.
And the US was going to become a leader in industrialization and blah, blah, blah. That took everybody off the farm. And so farmers were now ageing without kids on the farm, and they were under laboured. And so a good wheat killer to come along for them to be able to spray weeds effectively, especially at the beginning of the season when you need to kill everything in the field so you can get your seeds into the soil and have them unopposed by other growth, was a boon. And so, debuting 1976, by 1980, it was the biggest herbicide on the market, but you had to be very careful about spraying it because if it ever touched your corn or soybean, it would kill your crop. And so it had to be kept away from your crop. And it, but it was a water soluble toxin.
And what farmers didn't realise at the time is it was washing off their farms into our rivers. What homeowners didn't realise, back in the 1980s, we were spraying dandelions in our driveway and in our yards and all this, and we're starting to wash this stuff into our drinking water, into our rainwater. And so by the 1980s, we're starting to drink in small quantities, this chemical, glyphosate and the sister chemicals that would come through it in the Roundup formula. And by 1984 or so, Nancy Reagan, the first lady announced a war on obesity.
And so in this short period of time between 76 and the early eighties, we developed an obesity epidemic in the United States for the first time. And when you realise that the mechanism of obesity is a loss of mitochondria inside of human cells, so they can no longer use the calories that are being consumed by the organism, and that backs up into fatty liver and then backs up to peripheral fat and all the rest.
And so you get obese when you can no longer use your calories. The theory that overeating causes obesity is just frankly wrong. You know, teenagers prove this all the time. The skinniest you've ever been was when you ate the most calories in your life. What happened between your teens when you could eat, you know, four giant pizzas and never gain a pound? And 45, when you eat one slice of pizza and you gain weight, is the workforce inside the cells. The metabolism that's inherent to our youth, dies off as we expose our mitochondria, our organic garden, to toxins.
And so it's the progression of death of life within us at the microbial level, at the mitochondrial level that leads to the ageing process, the slowing of metabolism. And so we did that not only to the US but by the 1990s globally. We had contaminated the planet with Roundup and the company itself, Monsanto had no idea they were going to be as successful as they were in the 1980s.
They were already publishing their own cancer data. If you put this much Roundup into a mouse or a rabbit, they get cancer very quickly. So that stuff was published in 1988 and all that stuff. So they knew that at some level, this cancer, this was a cancer causing agent just as Agent Orange had been, although organ phosphates can cause cancer, they ultimately disrupt cell communication. And so that was the backdrop of how we got this chemical, agricultural, military complex going in the post World War II, post Vietnam era."
---
We fought GMOs years 28 years ago but now frankenstein food is back on the table.
Listen: Farming Today 24 Oct 2023
'Regulations around genetic modifications should be changed to allow it to go ahead. In the UK, the advice comes in a paper published by the Royal Society. Since Brexit, the UK has been able to determine its own policy on using genetic manipulation and has already approved the use of gene editing, which makes genetic changes within a species under the genetic technology Precision Breeding Act. But stricter regulations still applies to genetic modification, which involves moving genes between species.'
BBC Presenter; "Well now, professor Jonathan Jones, who authored the report for the Royal Society says regulation around genetic modification should be relaxed in his words 'to realise the technology's benefits for human health, agriculture, and the environment'. I asked Professor Jones to explain why the regulations should be changed."
professor Jonathan Jones; "if we come up with a blight resistant potato that doesn't need to be sprayed to control the late blight disease, I would argue that there's no point in seeing if they poison rats in 90 day rodent feeding trials because you're not testing any particular hypothesis beyond the rather nebulous one that something bad might happen."
BBC Presenter;Leoni Nimo is executive director at GM Freeze, which represents a number of anti GMO groups. She told me they believed genetic modification could still cause harm to the wider environment."
Leoni Nimo; "the Report that's been produced by the Royal Society is very much about deregulation. It's not about increasing protections. It's about taking those protections away. ….doing away with the precautionary principle, which is what has protected our food and farming systems to date. The basis of the precautionary principle is that something needs to be proved to be safe before it's released onto the market. What this report is calling for is doing away with that precautionary principle and saying, well, prior to something needing to be properly risk assessed, you have to prove what you think the causal mechanisms for the, for the risk are. It's like saying you have to know what the risks are before we will take out a risk assessment, which is completely back to front. And it's completely against the very robust systems that we have in place at the moment, which are based on the precautionary principle in terms of protecting our food and farming".
---
Could the 5G masts, not bird flu, be the real culprit killing wild and domestic birds???
Read; GLOBAL EXTENT OF BIRD ARMAGEDDON; Arthur Firstenberg
'Anders Brunstad alerted me to the installation of one of the most powerful radar stations in the world on the Varanger Peninsula in Finnmark, Norway just before tens of thousands of birds fell dead all over the peninsula. The southern and eastern coasts of the peninsula also have 4G+ and, increasingly, 5G service, added recently. At Ekkerøy Nature Reserve, on the southern coast of the peninsula, at least 15,000 endangered kittiwakes died at the end of July and beginning of August 2023. They nest there in the summer on high cliffs where they are directly in the line of fire of the radar, which is 50 kilometres away. The restaurant at Ekkerøy was forced to close for the summer because it was "raining down" dead birds. The total population of these seabirds in Norway was only about 50,000. Dead terns and other kinds of gulls have also been collected. Half of the cranes at Ekkerøy have died.
The radar, called Globus III, was built by the United States on the island of Vardøya in Vardø, the easternmost city in Norway, which is across a bay from northern Russia. It appears to be part of a civil defence network called the Space Fence. Details about this site have been kept secret, but I found a Request for Information published on February 22, 2022 on the U.S. government's website, SAM.gov. It states:
"This system is a one-of-a kind design which will be fielded in 2023. The program is a bi-national, collaborative specialised collection system. The GLOBUS program is a dual band ground-based radar system consisting of an S-band solid state phased array, an X-band dish antenna, an Integrated System Controller (ISC), and a Mission Communications Suite (MCS) hosted at an Outside Continental United States (OCONUS) location."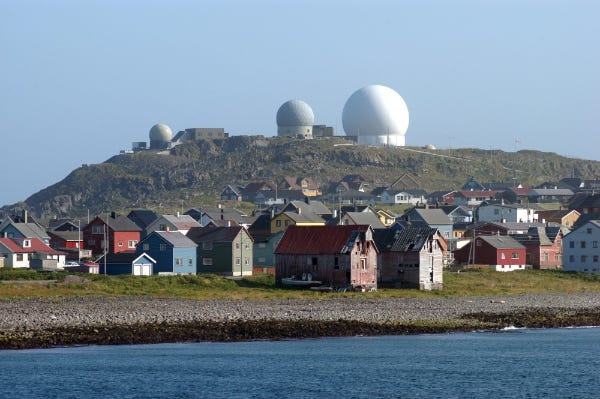 Other Space Fence radars are located on Kwajalein Island in the Marshall Islands, and in Western Australia. These S-band (2 GHz to 4GHz) phased array radars each have 36,000 transmitting antennas, a peak power of 2.7 MW and, when focused into a narrow beam that scans the sky in all directions, a peak effective radiated power of several billion watts.
The conflagration is not confined to Finnmark, or to Norway. Last summer I reported on mass deaths of nesting seabirds in locations near new antennas in the Netherlands and France (Birds on Texel Island; Sea Birds' Last Refuges). This summer the situation is immensely worse. The continued proliferation around the world of 4G and 5G cell towers and antennas, as well as offshore wind farms, has killed millions of wild birds on five continents, together with foxes, skunks, raccoons, fishers, badgers, martens, black bears, grizzly bears, bobcats, lynx, mountain lions, wild boar, otters, Virginia opossums, seals, penguins, and other animals.
Last year, 40% of the Dalmatian pelicans nesting in Greece died, along with 20% of those in Romania, and large numbers in Montenegro and Albania. By May 2023, more than 50,000 dead wild birds of all kinds had been reported in the United Kingdom, 40,000 in eastern Canada, and tens of thousands in the United States. By July 31, 2023, China was reporting 5,100 dead birds in Tibet. Reports of mortality have come from every state in the United States, across 129 species of birds. Huge numbers of bald eagles have died. Just in November and December 2022, more than 50,000 seabirds died along the coast of Peru, including 16,890 Peruvian pelicans and 4,324 brown boobies, both endangered in Peru. In Chile, as of January 1, 2023, perhaps 10,000 seabirds had died, including pelicans, kelp gulls, Belcher's gulls, grey gulls, guanay cormorants, Peruvian boobies, elegant terns, and turkey vultures.
On May 9, 2023, the Chilean government reported the deaths of 27,977 seabirds, and on July 21, 2023, the Peruvian government reported the deaths of 519,541 seabirds. These represented birds of 65 species. In addition, Chile reported the deaths of 2,517 Humboldt penguins, 460 Magellanic penguins, 16,856 sea lions, and smaller numbers of dolphins, porpoises, otters and other kinds of seals, while Peru reported the deaths of 9,314 sea lions and 100 other sea mammals. According to a report by the OFFLU, a global network of expertise on animal influenza, Chile has lost at least 13% of its Humboldt penguins, Peru has lost at least 36% of its Peruvian pelicans, and Chile and Peru together have lost at least 9% of their sea lions.
Ornithologists are all blaming this catastrophe on avian influenza, in spite of the fact that most of the dead birds are testing negative for any influenza virus, and the ones that test positive have all different variants of the virus so could not be transmitting it to one another, let alone to bears and penguins. For example, 233 dead birds were examined for flu virus by the Norwegian Veterinary Institute between August 14 and October 1, 2023. They found highly pathogenic H5N1 virus in 8 birds, highly pathogenic H5N5 in 2 birds, highly pathogenic H5Nx (other subtypes) in 2 birds, low pathogenic H5Nx in 6 birds, "other Influenza A virus" in 8 birds, and no virus at all in 207 birds.
Yet the United States is already stockpiling a vaccine against H5N1 in case it spreads to human beings and causes a pandemic.
[The powers that be are getting ready to pull another fast one re bird flu, which has mutated to become non-harmful to humans. See my articles on this here and here.—Nass]'
'It bears repeating, yet again, that influenza, whether in people, animals, or birds, is not caused by a virus and has never been demonstrated to be a contagious disease. In 1918, at the height of the Spanish influenza, attempts by medical teams in Boston and San Francisco to demonstrate the contagious nature of the flu met with complete and resounding failure. Such experiments in humans were published in the Journal of the American Medical Association, the Boston Medical and Surgical Journal, and Public Health Reports. Such experiments in horses were published in Veterinary Journal. Chapters 7, 8 and 9 of my book, The Invisible Rainbow: A History of Electricity and Life, are devoted to a complete, detailed examination of the history and science of influenza. Chapter 16, the longest chapter in the book, is devoted in part to the effects of electromagnetic radiation on birds. Some diseases are caused by viruses, but influenza is not one of them. I suggest once again that all bird conservation organisations should acquire my book and read it carefully.'
Arthur Firstenberg
---
The mainstream narrative to vaccinate every domestic bird is good news for Big Pharma, but new research has revealed that bird flu cannot spread from wild birds to domestic birds in the air and it spreading from farm to farm is very rare. Perhaps the domestic birds are dying because they are so sick in the factory farm? Or will they find that perhaps it isn't bird flu at all?
Listen; BBC Farming Today 21st October
'Major new research into Bird Flu was published this week. The headlines I think are that the situation so far this year is better than last year. That the virus doesn't spread between poultry farms in the air and that spread from farm to farm has been very rare. Well, last year, bird flu hit both wild birds and British farms hard. Back then I met up with Steve Childerhouse whose entire flock of christmas, turkeys and geese were culled after bird flu was found on the farm.'
Steve Childerhouse; "When you see geese with it, it's heartbreaking. They just went nuts to be honest with you. They just walked round in circles. they were bleeding. Turkey's were slightly different. one day they'd be really chirpy and then the next day you would come here and it would just be quiet. I remember going out from my house early one morning and came out and stood on our, oh God, I stood on our drive and – the shed, turkeys, on the end here. Every morning you would hear the chirping and it was just…. there was no……there was nothing….it was just silent. A lot of them died. unfortunately."
BBC Presenter; "I also met up with Ben Kirby from the RSPCA on the Norfolk Broads. He explained the impact on the local swan population."
Ben Kirby; "This slipway is usually awash with white and yet there just aren't the numbers that we've seen before".
BBC Presenter; "So there are six. I was quite excited because there were six".
Ben Kirby; "In a normal year, you'd quite happily put a zero on the end of that."
BBC Presenter; "So where are they all?"
Ben Kirby; "Dead I assume."
Professor Ian Brown; The Animal and Plant Health Agency (APHA); "this virus in kept birds, particularly chickens and turkeys, has a very fast onset of infection. The virus very rapidly goes systemic in the birds and ultimately reaches the brain, and it does all of that in about 48 to 72 hours. So that happens before the bird has time to mount an immune response. Whereas in wild birds there are some species where that onset and that kinetic is not as fast, or indeed they might have some prior immunity from exposure to a more benign flu, which gives them some level of protection."
BBC Presenter; "This project is going to be extended. What are your hopes for the next tranche of research?"
Professor Ian Brown; "I think where we want to go with the next period is to better map the risk between wild birds and poultry and understand that interface. How is the virus getting in? What can we do to work with farmers in terms of the best steps they can take to mitigate threat for their business? Understanding how this virus is going to continue to evolve. If we can predict the direction of evolution of this virus, we're going to be in a much better place to understand the risk and then interventions and of course that could ultimately feed into tools such as vaccination".
---
We urgently need to return to raising our poultry in the traditional way on the farm where the birds were happy and healthy which in turn boosted their immune systems and prevented them getting sick. Instead we have intensive units of artificially fast growing birds crawling over their toxic boidegrading waste that inevitably makes them sick with respiratory diseases. Big Pharma and Big Ag profit from treating symptoms, not root causes, thus enabling sales of both vaccines and gene editing technology that claim to prevent poultry from getting bird flu. As usual Farming Today 11 Oct fails to debate the issue on its program;
'Scientists in Edinburgh have used gene editing techniques in chickens, which they say could eventually limit the spread of bird flu. Last year, the disease had a devastating effect on poultry farms and wild bird populations. Researchers from the Roslyn Institute identified a protein used by the virus to help it replicate. They were then able to alter part of the chicken's DNA that creates the protein to make it less effective.'
---
Though this article's focus is the US, the UK also has a centralised and globalised farming system that has been shaped by Big Ag to make money on their polluting inputs while farmers struggle to make ends meet.
Read and watch; The Future of Farming is Uncertain. Here's How We Save It. Food & Water Watch, 27th Sep 2023
'At a recent event, Food and Water Watch's senior food policy analyst, Rebecca Wolfe, spoke with author Tom Philpott about the environmental and economic destruction brought by industrial farming and how we can reverse course.
'One of the major problems with our food system is how concentrated it is. Just a few, massive corporations grow, raise, and sell most of the food we eat. This trend is decades in the making, as lawmakers and regulators allowed Big Ag to grow with unchecked power over our most precious resources.
'Unable to compete with the giants, many small and medium-sized farms have been pushed out of the market. The system drives them to "get big or get out," wiping livelihoods and even whole farming communities off the map.'
Tom Philpott; "If we want to really increase the supply of local and regional food, we have to figure out how we can get it into the institutional setting of restaurants, schools – these big institutional buyers that are pumping money into the food economy. But they're pumping money into this California-centric huge food economy instead of these local food economies, and it's the hidden subsidies that get those salad greens from California to the east coast……So you'll get people saying; 'we're more than happy to buy your produce, but here's the price you have to take'. So you become a price taker. And that money flows out of the community and into these bigger institutions.
This mantra of, "don't worry about the surplus; we'll export it"; is that we'll just dump it into foreign markets, and we'll call it development. So that was the policy for a long time. In that kind of world, US farmers were easily able to out-compete other farmers in the world. But since that time, we have seen the rise of these other massive nodes of industrial corn and soybean production in the Brazilian savannah ……the Cerrado. It turned into this massive area, first soybeans and now corn.…..Similarly the Argentine Pampas, which are these incredible grasslands, similar to the US corn belt, that supported grass-based beef agriculture for ever and ever. They're converting that into corn and soybeans. The black earth territory of Ukraine, until a couple of years ago, before this awful war started, was in the process of being turned into another node of industrial corn and soybean production. So what you get is US farmers producing as much corn and soybeans as possible, as are farmers in Brazil, as are farmers in Ukraine, as are farmers in Argentina. And so the price is stagnant. You got periods where it gets high for some reason, but the input prices quickly come up to meet that.
Your seed suppliers, your pesticide suppliers, which are the same as fertiliser suppliers, they come in and raise their prices, and you can get this treadmill effect where net profitability over time is, essentially zero because there is so much competition. And that's where we are now, we're in this treadmill effect. And what keeps it all humming in the US context is basically the Farm Bill, the commodity program, and the crop insurance program. Meanwhile, the soil erosion rates, the pollution of water….. talk to anyone in Iowa about the quality of water, not just nitrates and drinking water, but like algae blooms and lakes and things like that. And it is a full on catastrophe. Who has an interest in it? Well, it's the companies that sell the inputs that are making massive profits off of it.
---
Solutions
New Book: With the Land – 10 years of the Landworkers' Alliance, Landworkers' Alliance, 7th Oct 2023
'Our new (and first ever!) book, 'With the Land', marks 10 years of the Landworkers' Alliance. It explores what it means to work with the land, reflects on the wider land work movement and celebrates what is achievable through collective action.
'With the Land' is a seed store of stories and poetry, interviews, recipes, essays, artwork and song, by and about people who have tilled and cared for the lands of Britain to produce food, fuel and timber within a culture of regeneration. Old hands and young voices, activists and campaigners, foresters and farmers, shepherds and soil keepers, have come together to create a testament of the collaborative spirit, vision and hard work that goes into restoring our relationships with the natural world, and making a new approach to land use and food growing possible.
Spanning landscapes that range from forests to uplands, city farms to rural hinterlands, each section tells the story of how a dedicated network of landworkers are pushing against history to create a radical future-looking movement.
With the Land is now available to buy via our online shop – we hope you will love it as much as we do!
---
'Our dreams are their nightmares'. Two points of view about food and farming that could not be further apart. One, Conservative MP Jacob Rees-Mogg's, who wants to allow hormone-treated beef imports from Australia, and accuses the NFU of protectionism. This race to the bottom in food production represents everything that is wrong and broken in our global food system. Whereas the other is Gareth Roberts' scheme 'Regather' which is developing a local food hub in a disused garage space outside Sheffield, and is a finalist for a Farming for the Future prize.
Listen Farming Today, BBC Radio, 7 October 2023
Rees Mogg; I'd be very happy to eat Australian beef, but it should be a matter of choice.
BBC Presenter; (aghast) But you're calling for hormone-injected beef from Australia because its cheaper.
Rees Mogg; If people want to eat it they should be free to. I was visiting farms in my constituency last week, and the successful farmers in north east Somerset can compete globally because they are producing effectively and cheaply and economically, and they're investing. Minette Batters and the NFU, what they want to do is to hold agriculture back in a protectionist fortress which means that you allow inefficient farming to carry on, you make it harder for the efficient farmers because they don't get the capital they want to invest. Protectionism hurts farmers and consumers, it puts prices up and it encourages inefficiency. What she is doing is a disservice to farming.'
Minette Batters; "I would like to see an apology from him".
BBC Presenter: "Regather is a cooperative with a big mission. They want to reshape the food landscape of Sheffield. They say it means building strong food supply chains that link the people of Sheffield with food that is produced sustainably and close by. The group runs a fruit and veg box scheme which funds its other projects including community garden sessions and campaigning. They also have a 15-acre market garden just outside the city where they produce fruit, vegetables and cut flowers for their boxes."
Fran Humphries; "We now have 4 polytunnels, we can obviously expand, but it's never been just about Regather, it's about providing the ways and means to enable other people to manage the landscapes well. People need to know what's possible, they need to know how to manage land, how to grow food, all the hoops they need to go through to get that land, and if we can show them how to do that by working with local landowners, including Sheffield City Council, then we're opening the path up."
Gareth Roberts; "Our vision for a more productive landscape on this particular site is the possibility if a food hub.The brick wall with graffiti is actually a collection of abandoned garages that have been bricked up, and we're working with Sheffield City Council to develop a vision for a food hub on this site."
"What we're talking about is a whole food system change, it isn't just about the farmer and what the farmer does on the land, we need to reconnect with farmers, but we need to fundamentally change the way the rest of the food system works, and so much of that is way beyond the control of the farmer and the grower. And often they bear the brunt of all the problems the food system presents, and creates for all of us…We're about food system change, not just farming change."
---
Read; Earthworms contribute to 6.5% of world grain production: study, Nature, 26th Sep 2023
'Scientists found that earthworms may be to thank for more than six percent of global grain yields every year, because of their crucial role in soil ecosystems. Worms help to decompose dead plant material, releasing nutrients plants need to grow, and their tunnelling helps plant root growth among other benefits. Evidence suggests they also help plants protect themselves against common soil pathogens by stimulating their defences.'
---
Watch; 'Day of Reckoning Is Coming':
Two new documentaries, "Organic Rising" and "Common Ground," highlight the growth of organic and regenerative agriculture, contrasting these approaches to restoring soil health with industrial farming's damage to soil and human health through chemicals.
Brenda Baletti, PhD Children's Health Alliance; 10/20/23
'While venture capitalists, biotech startups and Big Food corporations invest in lab-grown foods, gene editing technologies and digital agriculture, farmers and consumers across the country have been transforming agriculture from the ground up — reviving traditional practices and innovating new ones to build healthy soils that make healthy food, people and ecosystems.
Two new films, "Organic Rising" and "Common Ground," are raising awareness of this movement, highlighting the farmers, researchers, advocates and consumers who have been hard at work building the foundations for a healthy, sustainable planetary ecosystem rooted in the soil.
"Organic Rising," written and directed by Pulitzer Prize-winning National Geographic photojournalist Anthony Suau, examines the rise of the organic food movement in the U.S. over the last several decades and provides a practical guide to consumers seeking to understand the contemporary food landscape.
'Common Ground' brings together an all-star cast of narrators that includes Laura Dern, Woody Harrelson, Donald Glover, Jason Momoa, Rosario Dawson and Ian Somerhalder to advocate for regenerative farming — a set of principles and practices geared toward building soil health in order to manage natural resources and grow nutritious food, as a viable remedy for a sick planet.
Both films juxtapose these overlapping approaches to farming with the conventional industrial agriculture practised by 90% of U.S. farmers who rely on genetically modified seeds and synthetic chemicals that damage the soil and human health.
Both promote healthy soil as the foundational building block for a healthy world.'
---
Palestine/Israel Conflict & Geopolitics
National March for Palestine
Where: Victoria Embankment, London
When: Saturday 28 October, 12PM
🚨National March for Palestine

Where: Victoria Embankment, London
When: Saturday 28 October, 12PM

Last week was the biggest march for Palestine in UK history. Let's make this one even bigger! Join us as we march again for Palestine demanding an immediate #CeasefireNOW. pic.twitter.com/MXhGLpg3hB

— PSC (@PSCupdates) October 23, 2023
---
https://t.me/nailauncensored/8286
https://t.me/nailauncensored/8476
---
Thanks to the zionist capture of media and politics, the western world has been brainwashed into thinking it's acceptable that 5.9 million Palestinians are refugees. Expelled at gunpoint from their centuries-old farms, their villages bulldozed to rubble in the brutal, genocidal 1948 Nakba, millions of Palestinian families are living in tiny cement-block shacks in 58 refugee camps in Israel, the Occupied Territories, Jordan, Lebanon and Syria.
This might have become normal for us, but for Palestinians its daily hopelessness, despair and abandonment. They want peace, but the attack on Israel was founded on desperation that this relentless torture will forever be legitimised by western governments and press. The attacks on Israel have woken up the world to the barbaric conditions in the Gaza concentration camp and accentuated their demands for justice and return to their properties in Palestine.
According to a Free Palestine Movement spokesman, it's aims are to 'open the borders to the Gaza strip, free the Palestinian prisoners in Israel's jails, remove the settler towns from the West Bank and rebuild the Bedouin villages in the Negev, return Palestine to the Palestinians and compensate them for 75 years of occupation.'
Watch; Gaza Prison Break; Palestine Declassified, 14 Oct 2023;
Former Labour Party MP, Chris Williamson; Academic, former Professor at Bristol University and non resident Senior Research Fellow at the Centre for Islam and Global Affairs at Istanbul Zaim University, and Co Director of the lobbying watchdog Spinwatch and a leading British scholarly critique of Israel, David Miller and Prof. Sami Al-Arian, Public Affairs Professor and long standing political activist whose roots are in Palestine and who has campaigned for Palestinian liberation for many years.
'In this special edition of Palestine Declassified, we examine the extraordinary armed uprising of the Palestinian people against the Zionist entity, which has repeatedly and flagrantly spurned every single peaceful attempt to secure justice for Palestine.
First we have a special report about this audacious military offensive by Palestinian freedom fighters, which began in the early hours of October 7.
Then we have another report, looking at the strategic implications for the United States and Israel of the military operation by the Palestinian resistance factions.'
Chris Williamson; "Is this an explosion of anger from Gaza in response to the endless provocations from the Zionist? Or, or do you think there's something more strategic going on here?"
David Miller; "It would be no surprise to say that people in Gaza are a little bit angry indeed with Zionists, but this is not some spasm, some emotional outburst. This has been planned for a long, long time, at least a year. It seems that Hamas and the other resistance factions who we don't talk about enough. No, indeed. People talk about this being Hamas doing this, Hamas doing that. It's Hamas. Yes. It's the Palestinian Islamic Jihad. Yes. It's the Popular Front for the Liberation of Palestine."
"We've seen already from the north, Hezbollah, and to some extent other factions like Palestinian Islamic Jihad in Lebanon, making a breach of defence at the border. ….This is not going to be something where the Zionists can just crush the resistance because there are all sorts of consequences for their actions."
Sami Al Arian; "I don't think there is any illusion among the resistance fighters that this was a war of liberation. I think they had several objectives in mind; five in particular. The first one would be to stop this daily encroachment, incursion, the desecration of Al-Aqsa mosque and the holy places that have been taking place throughout the year, particularly in the last three weeks. Secondly, it was an attempt also to stop the incursion and the daily attacks on Palestinian youth in different West Bank cities, killing them, imprisoning them, detaining them, kidnapping them, which has also claimed over 240 lives this year in the West Bank alone four of them are children.
Third, because Israel has been refusing to exchange its prisoners for the few prisoners in Gaza, so there was an attempt to get more prisoners of war, to force Israel to make that. Since 5,500 Palestinians, including many women and children are in prison. Their lives have been even made much worse when Ben Gvir became the person in charge of the prison system.
And fourth, it is to lift the siege on the 16 year blockade and siege against Gaza.Over 2 million people have been under siege now without really caring or giving much attention to this tragedy, to this genocidal policy. And fifth and last, which is very important, is to show the work that the Palestinians are determined and resolved to continue fighting and resisting the occupation, including fighting, but also to show the world that they are capable of defeating an enemy on the ground.
And I call also that our fight is not just militarily, that we need to engage the Zionist groups and Zionist ideology and Zionist supporters and governments, those who support it, in all fields, politically, economically, commercially, legally, human rights, artistically, media wise in all spheres, in all geographies."
David Miller; "I think people need to understand that the resistance axis is an actual thing that the resistance in Lebanon, the Hezbollah, in Syria, in Iraq, in Yemen, the Ansarallah in Yemen and of course the Islamic Republic of Iran, that this is an actual functioning set of organisations who work together. They don't plan each other's activities, but they are coordinating with each other. And that's the key to this. If there is an escalation from the Americans, they, the resistance in Hezbollah, in Iraq have said that they will regard US targets across the region as legitimate.
Now, that is a big question. What does that mean in terms of confrontation? It's also a question about what happens if there is a ground invasion of Gaza? If there's a ground invasion, the IDF, the Israeli Occupation Forces, will take very, very heavy casualties, and it'll also mean a massive escalation. Hezbollah will almost certainly come in from the north and that of course is something which will be concentrating the minds of Netanyahu and his cabinet about how far they can go to pursue their goals of eliminating and expelling all Palestinians."
---
Many Orthodox Jews are not Zionists, and do not believe that there should be a Jewish state. They stand solidly behind Palestine as the home of those indigenous people who lived there pre the occupation and condemn the brutality of the apartheid regime.
tiktok; Watch; Rabbi Dovid Feldman, spokesperson for Neturei Karta, an international Orthodox Jewish anti-Zionist group addresses a crowd in downtown Montreal in reaction to the Israeli government turning off Gaza's electricity and water, 12 October 2023.
"It is not the difference of religions which is causing this conflict. The state of Israel does not represent all Jews and certainly does not represent the Jewish religion.
According to Jewish religion, all of this is criminal. All of this is forbidden. The basics of Jewish belief teaches that Jews are in a divinely decreed exile. We are even forbidden to create a sovereignty for ourselves. But especially when this is by killing, stealing, oppressing an entire people.
'This is not only criminal according to international law, this is a true violation of Judaism. And still those people who choose not to follow Judaism misuse that very same religion to justify all those crimes forbidden in Judaism.
'The root cause is this criminal occupation, which is oppressing an entire people.
We have to end this occupation in its entirety. If people will ask me for my advice, the leaders of Israel should wake up tomorrow morning and step out of the Knesset and return the land back to indigenous population. I guarantee peace.'
---
Lauren Booth, Cheri Blair's half sister, travelled by ship to Gaza in 2008 to highlight the blockade, and then again as a member of the Aid Convoy set up by George Galloway. She presented programmes on Press TV for many years, and converted to Islam in 2010.
Watch; X @andrewfeinstein
'Tony Blair's sister-in-law is more accurate & honest on Palestine in two minutes than he has been his whole life.'
Lauren Booth; "You must have heard Gaza having been referred to as an open prison. Yeah? You've heard that, right? It's not, it's a concentration camp. Right. Let's start using the terms. We don't mind that the other doesn't like these terms. We need to use what is accurate. Can I just describe why Gaza is a concentration camp? Because it's very important.
Let's talk about prison first. A prison is somewhere where criminals go. So the minute you talk about prison, it's like, oh, yeah. Uh, Palestinian criminals, they're all in that prison called Gaza. No. Men, women and children who have committed no crimes are not prisoners. Agreed. They can't be imprisoned by the state. Good.
Secondly, in a prison, the one who controls the prison has to give three meals a day. They have rights to healthcare, they have to have clean water. And here's a really important thing. They get visitation from the outside world, from their families, and they have a due date to leave. None of these apply to the people of Gaza who have for 16 years been under an illegal siege. People don't seem to understand what that means. I have been on a boat from Cyprus to Gaza through the Israeli naval blockade. That's the only way you can get to Gaza. Their fishing their sea, the Gazan area of sea, enshrined in this useless international law, sees their fishermen regularly bombed out of the water, regularly murdered.
So there's no way to get in or out. There's no airport. There's no rail system. There's no buses taking them here or there. So, the definition of a concentration camp; a space where men, women, and children, are crowded into oppressive conditions by an external force because of their….. and listen to this, political beliefs, religious beliefs, views, ethnicity, and then they're treated harshly. That's what the Gazan people have experienced and are experiencing right now. We have Zionist Jews bombing a concentration camp. Congratulations."
---
Watch on telegram; Mike Peled, son of an Israeli general, an activist and author;
"And then you've got the Israeli army, which I like to refer to as one of the best trained, best equipped, best fed terrorist organisations in the world. And yes, they have generals and they have nice uniforms, but their entire purpose is terrorism.
And just as one example, I'll give you one example; almost exactly four years ago, as Israel began its attack on Gaza, September the 27th, 2008, at 11.25 in the morning, what I refer to as the most shameful day in the Jewish history, the most shameful day in the history of the Jewish people, Israel began carpet bombing Gaza. And on the first day of what was to be a 21 day attack, they dropped 100 tons of bombs.
A one ton bomb will decimate an entire city block. Gaza is one of the most densely populated places in the world. 800,000 children live in Gaza. 11.25 is exactly the time when the morning school shift and the afternoon school shift change. So all the kids are in the streets, all the children are on the streets. That was the moment decided by the decision makers in Israel to begin the attack. This was the first day of a 21 day slaughter that had absolutely no justification.
If that's not terrorism, I don't know what is. And this is how the state of Israel manages to control the different populations and somehow still keep up this very sweet, liberal kind of face to everything."
---
Watch; Killing Gaza; A documentary film about life under siege | Dan Cohen and Max Blumenthal; 24 Oct 2023
'In the award-winning feature-length documentary film "Killing Gaza," journalists Dan Cohen and Max Blumenthal documented Israel's 2014 war on Gaza. Dan Cohen continued to return to Gaza again and again over the next 3 years, as Palestinians struggled to survive in the rubble and under a suffocating siege. This film is much more than a documentary about Palestinian resilience and suffering. It is a chilling visual document of war crimes committed by the Israeli military, featuring direct testimony and evidence from the survivors.'
"Max Blumenthal and Dan Cohen's powerful new film, 'Killing Gaza,' offers an unflinching and moving portrait of a people largely abandoned by the outside world, struggling to endure." -Pulitzer-prize winning journalist, best-selling author and activist Chris Hedges.'
---
Watch; The war criminal enterprise known as Israel? it's finished, says Scott Ritter. The humanitarian crisis? There's been one for 75 years for Palestinians; @MoatsTV @RealScottRitter; William Scott Ritter Jr. is an American author, international relations analyst, former United States Marine Corps intelligence officer, former United Nations Special Commission weapons inspector. Ritter served as a junior military analyst during Operation Desert Storm; 22 Oct 2023.
"Israel has implemented a policy, in the English language it's 'mowing the grass'. "Dahiya" is the policy that the Israelis have put on it. Mowing the grass. What does that mean? It sounds nice. It sounds copacetic 'mowing the grass'. It means mowing the people, mowing the Palestinian people, mowing the children of Palestine, mowing the women. And when I say mow, I mean kill. I mean murdering them, knocking them down like you would grass at harvest. 'Mowing the grass'. It's Israel's policy of disproportionate force. It's Israel's policy of deliberately targeting civilian populations to crush the will to resist. It is, by definition, a war crime. You are not allowed to deliberately target civilian populations. International humanitarian law has made this clear, and yet Israel not only does it, but acknowledges it as its official policy.
And the world is silent. The world is silent. Nobody speaks out about this. Nobody has spoken out about it. It's allowed to happen because that's the way it is. You see, in order to accept Israel in the family of nations, you have to accept the principles of Zionism, political Zionism. You have to accept the notion that Israel and the Israelis, it's an exceptional nation populated by an exceptional people. That the normal rules and regulations don't apply to them.
That because they are God's chosen people, they are allowed to do unto others no matter what. And they will not allow others to do unto them. That calculus has changed. What Hamas did on October 7th is said,' No, that game is over'. That time is over there. Israel will no longer be able to rest in peace. That the Palestinian people through the resistance that is personified by Hamas are rising up. And now what we see through the sacrifice of the Palestinian people, who are paying a price, because Israel is implementing its 'mowing of the grass' as we speak. You know, a hospital was bombed. A lot of finger pointing going on. Who done it? Was it an Israeli bomb? Was it a rocket from the Islamic Jihad organisation? We don't know. I mean, I think the circumstantial evidence right now points to this being an Israeli action."
---
Watch; Putin Plans Gaza Attacks Counter With Iran, Syria; 'Israel-Hamas War Could Go Out Of Control'; Hindustan Times; 17 Oct 2023
'Russian President Vladimir Putin has entered the fevered diplomatic fray of the Middle East. Putin spoke to five of the major players, including Iran and the leading Arab powers, in an attempt to secure a ceasefire in the war between Israel and Hamas. Putin spoke to Iranian President Ebrahim Raisi and Syrian President Bashar al-Assad. Russia has stated that the threat is high that this whole conflict will get out of control.'
---
China and Russia want to work with Arab countries to get a fair solution to the occupation of Palestine.
Read; Israel-Hamas war: China deploys warships to region amid fears of wider conflict Times of India, 24 October 2023;
China's People's Liberation Army (PLA) has deployed six warships in the region amid escalating tensions. According to the South China Morning Post, these warships, including the Zibo, a Type 052D guided-missile destroyer, the frigate Jingzhou, and the integrated supply ship Qiandao were part of the PLA's 44th naval escort task force.
On October 19, Chinese President Xi Jinping reaffirmed Beijing's longstanding position in favour of establishing a sovereign state of Palestine, as reported by state media. He emphasised that this approach represents "the fundamental way" to resolve the ongoing conflict in the region.
The top priority now is a ceasefire as soon as possible, to avoid the conflict from expanding or even spiralling out of control and causing a serious humanitarian crisis," Jinping said."
---
You can include our very own N. Ireland in this demand for a ceasefire and liberation for Palestinians..
Read; The Anti-Imperialist Movement that Supports Palestinian Liberation—and Runs Part of the UK; MATT KENNARD; 19 OCTOBER 2023
'When Israel began its illegal 'total siege' of Gaza, the political leadership of the Western world converged to line up behind it. It was the natural continuation of decades of support for Israel's oppression of the Palestinians, termed apartheid by both Amnesty International and Human Rights Watch.
Particularly noticeable was the bipartisan support for flagrant violations of the Geneva Conventions, or war crimes. Whether it was the Republicans and Democrats in the US, or the Conservatives and Labour in Britain, everyone was reading from the same hymn sheet.
But in the British context, another thing was also immediately noticeable. There was one party, theoretically in charge of 6% of UK territory, which was speaking forcefully in favour of Palestinian human rights, a lone strident voice in the political mainstream.
This was Sinn Féin, the Irish Republican and Democratic Socialist Movement, which in May 2022 became the largest party at the Northern Ireland Assembly, the first time a Nationalist party achieved this result since Ireland was partitioned in 1921. Under the terms of the 1998 Good Friday Agreement, Sinn Féin should lead the executive in the territory, although the Unionist opposition have so far obstructed this happening.'

---

Read; Palestine is fighting for survival against disproportionate force but prevailing. Israel is being exposed as a paper tiger; Vanessa Beeley, 10 October, 2023;

Hebh Jamal writes from Gaza:

"When I read posts shocked at how I am not condemning Hamas at this point in time, I feel once again inferior. My value as a human is not seen the same. While we are in the most traumatic and gut wrenching moments of our lives, there are some who believe, 'now is the time to say that we have to condemn. We have to say that love trumps all.'

I fucking wish. I truly goddamn wish that love trumps all. That it is love that leads revolutions. I wanted, for my whole life, to believe that by protesting long enough, by supporting BDS (Boycott, Divestment and Sanctions) long enough, by writing long enough, I am actively making a difference. Well I wasn't. Not in the way that might save my people's existence.

In Gaza, despite bombs being dropped overhead, despite us losing tens and tens of our family members right this very second, they know that if it is not now, it will be later. They know this because their whole lives that is all they had to see. They had to see mutilated bodies, they had to see their children dismembered in front of them, and they had to see their futures destroyed.

2004, 2005, 2008, 2009, 2011, 2014, 2017, 2018, 2021, 2022, 2023.

Each war and assault on Gaza is the same. Each war the amount dead was dismissed and treated lesser than. Our humanity is not valued. For if it was, so would be our pursuit for liberation. There has not been success in changing the perception of the Israeli public to actually see us as humans and to accept we will not live in a cage. Whenever Israelis have an election we brace ourselves, because we know the only way you get polling numbers is by bombing or raiding or arresting us senseless. Usually when they bang the war drums, public support comes running. I am unsure how the colonised mind will decolonize itself to give us our freedom. It has not happened and I don't think it ever will."

Mazin Qumsiyeh – Popular Resistance

"I received dozens of messages inquiring about my thoughts on what is going on now in Palestine and how we are doing and what is going to happen. I also did some TV & Radio interviews. It is really very simple: we have 15 million native Palestinians, 8 million of us are refugees or displaced people (2/3rd of Gaza's 2.2 million are refugees). Israel cannot be allowed to get away with stealing lands and resources and setting up a racist apartheid regime. Even besieged, starving, blockaded people in Gaza manage to break through their prison walls. Miraculously they managed to defeat the supposedly most sophisticated intelligence and military force in the world. They took the battle deep behind delusional Israeli walls.

The Israeli government refused to exchange prisoners before (4 held by Hamas) and now will have to contend with at least 150 Israeli POWs including high ranking military officers. This colossal failure (intelligence, military, political, public relations) was surprising only in terms of its timing. I have predicted this for decades. As before, Israel will not be able to get to the guerilla fighters so they will exert revenge from civilian population which only adds more people willing to join resistance factions."

---

Every Zionist should hear these wise words about how Jews and Islamists could live in peace together but only if the USA stopped interfering.

Watch; Message to the Israeli people; Middle Nation, 14 Oct 2023;

Sahid Bolsen; "I think Israelis need to recognize, if they don't already, that the United States is not your saviour it's your worst enemy. The US, whether you know it or not, and whether Muslims understand it or not, is actually treating Israel the same way that they treat everyone else, with complete contempt. I mean, look, they are supporting Benjamin Netanyahu who is the most unpopular, the most despised, the most corrupt, the most incompetent, the most psychopathic, delusional and despotic ruler that Israel has ever had, and he's responsible for both prolonging and worsening the conflict with the Palestinians.

Netanyahu has made a career of diverting attention away from the internal domestic concerns that actually matter to Israeli citizens, that matter the most to Israeli citizens, by endlessly talking about security and the supposed threat that Israel faces, and of course the domestic problems in Israel just get worse and the conflict and the security situation actually just gets worse and America loves it. They don't don't care about Israel's domestic issues, they don't care about the socioeconomic issues, the socioeconomic concerns that Israelis have, the high cost of living, the disparity between rich and poor. They don't care about corruption in Israeli society and so on. And these are predominantly the issues that matter the most to Israeli citizens.

Obviously the only way for Israel to ever progress as a society is to dislodge themselves from the United States, from the West and to integrate properly into the region. Until they do that, none of their domestic issues will ever be resolved, they'll never even be addressed until they do that. They will never be allowed to do anything but be a policy tool of the US, and lose both their lives and their souls in the process.

---

Palestine will prevail in the end, Israel is too inhuman, unjust and infected with hatred to survive much longer in its brutal, sadistic form. The zionist dream is a nightmare; 35 Palestinian children had already been killed by Israeli soldiers this year before the Hamas action. Countless more children have been wounded and crippled by IDF (Israel Defence Forces) assault weapons. How can a child possibly be a threat to Israel? Is this the same disease that leads to school shootings in the US? Teenage Palestinian girls are deliberately shot in the stomach to make sure they can never have children. Armed settlers uproot centuries-old olive groves on Palestinian farmers' land. They commit these atrocities to enrage and provoke the Palestinans into uprisings which can then be brutally crushed with more civilians randomly murdered by missiles and bombs while EU, UK, US watch the slaughter without comment and applaud politely from the sidelines.

Watch; Zero hour in Gaza – The Grayzone; 13 Oct 2023;

Max Blumenthal and Aaron Mate cover the latest from Gaza as Israel demands 1.1 million civilians leave the northern area of the besieged enclave in expectation of a regime change war, and US, UK and French ships arrive at the coast.

Max Blumenthal; "Remember Netanyahu went to France, to Paris, after Al-Qaeda attacks against Jewish centres of life in Paris, and asked French Jews to leave their community and move to Israel? He always exploits anti-semitism to advance the goals of zionism. What we see also with the occupation and the siege and the refusal of Palestinians to bow, and what happened on October 7th, which was made inevitable by this siege as Hamas, has openly stated in the press conference they held in English yesterday, which was completely ignored, where they said these attacks were response to siege and occupation. They didn't say these were attacks to kill Jews.

'Zionism has failed on its core promise to Jews, which was to provide Jews with two things, security and Jewish sovereignty. Number one there is no more dangerous place in the world today for Jews than inside Israel. They've gathered Jews there to make them into targets of the designated enemies that surround it, while indoctrinating them into the most hyper-militarised culture on the planet.

Number two, Jewish sovereignty. What sovereignty does Israel have when it needs American, French and British aircraft carriers to protect it from guerilla bands that have surrounded it? Guerilla bands of people that they've occupied and ethnically cleansed. What sovereignty is there?"

---

Watch; Israel's long war on Gaza w/Norman Finkelstein The Chris Hedges Report, 18 Oct, 2023;

"Israel has unleashed a horrific war of collective punishment against the people of Gaza, the latest in a long history of anti-Palestinian oppression. As corporate media shamelessly provides cover for what is undoubtedly a genocide unfolding in real time, the need to ground our understanding of the conflict in its proper history is more important than ever. Norman Finkelstein joins The Chris Hedges Report to discuss Israel's 17 year blockade of Gaza and its crucial significance to understanding the events of the past two weeks."

---

Read; List of war crimes and crimes qualifying as genocide committed by Israel in Gaza between 7th & 14th October 2023; Yanis Varoufakis;15/10/2023

"Defenders of Israel's bombing and invasion of Gaza have challenged me to offer a 'chapter-and-verse' list of war crimes that Israel has committed since the Hamas Offensive of 7th October. Here is an indicative, but not exhaustive, list. There is no doubt: Israel is investing in war crimes to effect its recapture and ethnic cleansing of Gaza while, at the same time, practising similar tactics in the West Bank and East Jerusalem"

Rome Statute of the International Criminal Court – Genocide

Article 6(c): Deliberately inflicting on a group conditions of life calculated to bring about its physical destruction in whole or in part

Imposition of a complete siege of the Gaza Strip, totally depriving Gazans of electricity, food and fuel, and tightening even more the existing 16-year-old blockade thereof.

Article 25(3)(c): For the purpose of facilitating the commission of such a crime, aids, abets or otherwise assists in its commission or its attempted commission, including providing the means for its commission

Israel purchases 10,000 rifles for Israeli settlers.

Article 25(3)(e): Directly and publicly Incites others to commit genocide

"We are fighting human animals, and we act accordingly" (Israel's Minister of Defense Yoav Gallant).

War crimes – Grave breaches of the Wilful Killing Article 8 of the 1949 Geneva Conventions

---

Listen: UK Column: understanding Gaza, under fire and under siege vanessa Beeley and Eva Bartlet and Synthia McKinney; 19 Oct 2023

Gaza under Zionist attack.

'Mike Robinson of UK Column speaks with journalist Eva Bartlett who has lived in Gaza and the Occupied Territories for extensive periods of time, Cynthia McKinney, former US Congresswoman and long time Palestine supporter with her own history of dealing with the Zionist security forces and finally, myself, Vanessa Beeley – I was in Gaza during the 2012 Zionist aggression and returned in March 2013 to establish trauma therapy projects inside Gaza'.

Former Congresswoman, Cynthia McKinney: "During my very first campaign for the Congress…the very first thing I was asked to do was to sign a pledge of loyalty to Israel. This was 1992 when I was running, and when I said it, people didn't believe me, because no one had ever said anything like that before. Now, it's very commonplace. In the UK you have certain groups that require the parliamentarians—while they are campaigning, before they are elected—to make this pledge to Israel.

I was asked to do the pledge. I refused to do the pledge, and as a result of that I was in day-to-day trench warfare the entire 12 years because I didn't go along with the plan, and I presume that I was the first one who didn't. I certainly was the first one to blow the whistle on me being a US citizen having to pledge my allegiance to a foreign country."

---

Follow the money, especially given our very own 'British Gas' is involved!

Read; "Wiping Gaza Off the Map": Big Money Agenda. Confiscating Palestine's Maritime Natural Gas Reserves, by Prof. Michel Chossudovsky and Felicity Arbuthnot, 23 October, 2023;

'Netanyahu's October 2023 declaration of war against 2.3 million people of the Gaza Strip is a continuation of its 2008-2009 invasion of Gaza under "Operation Cast Lead."

The underlying objective is the outright military occupation of Gaza by Israel's IDF and the expulsion of Palestinians from their homeland.

I should however mention that there are powerful financial interests which stand to benefit from Israel's criminal undertaking (genocide) directed against Gaza.

The ultimate objective is not only to exclude Palestinians from their homeland, it consists in confiscating the multi-billion dollar Gaza offshore natural gas reserves, namely those pertaining to the BG (BG Group) in 1999, as well the Levant discoveries of 2013.

Egypt succeeded in persuading Israel to start extracting natural gas off the coast of the Gaza Strip, after several months of secret bilateral talks.

This development … comes after years of Israeli objections to extract natural gas off the coast of Gaza on [alleged] security grounds, …

British Gas (BG Group) has also been dealing with the Tel Aviv government.

What is significant is that the civilian arm of the Hamas Gaza government has been bypassed in regards to exploration and development rights over the gas fields:'

---

The neocons will finally get their war with Iran;

Watch or listen; Vital Lessons From the United States' Catastrophic Response to 9/11; System Update with Glenn Greenwald; 20 Oct 2023

"I think it's worth remembering that the 'War on Terror' did not only involve Iraq. What it entailed was a series of bombing campaigns and other wars in many nations. General Wesley Clark, who was a senior military official in the Pentagon in 2011, gave an interview where he recalled what neocons inside the Bush administration were telling him was their actual plan at the time.

And it is stunning to hear and describe what they were announcing in the early part of the 'War on Terror' in terms of all the wars they wanted to fight, because of what ended up actually happening. You see the article in Salon that I wrote, when he gave this interview 'Wess Clark and the NeoCon Dream'. In 2007, the retired general described a NeoCon policy coup aimed at toppling the governments of seven countries.

'Wess Clark and the NeoCon Dream', and this is what he said, quote, "in October, 2007, General Wesley Clark gave a speech to the Commonwealth Club in San Francisco", in which he denounced what he called' a policy coup engineered by neocons in the wake of 9/11'. After recounting how a Pentagon source had told him weeks after 9/11 of the Pentagon's plans to attack Iraq, notwithstanding its non-involvement in 9/11. This is how Clark described the aspirations of the coup being plotted by Dick Cheney, Don Rumsfeld, Paul Wolfowitz, and what he called, quote "a half dozen other collaborators from the project of the new American century". The New American Project of the New American century was a project of neocons founded by people like Bill Crystal and his partner William Kagan, who's Victoria Newland's husband. This was the neocon project, in the 1990s, that was calling for regime change in Iraq, well before 9/11. 9/11 became the pretext for it. Just like a lot of people in Israel had wanted to clear Gaza of Palestinians and "bomb Gaza into smithereens", as the Israeli Knesset MP told me last night, because of a long time plan to try and take Gaza as part of Greater Israel. And this is now the excuse used to accomplish that. Prior to 9/11, all of these words were planned by neocons and they got to use 9/11 as the pretext quote; "Six weeks later, I saw the same officer that I was speaking with and I asked him, why haven't we attacked Iraq? Are we still gonna attack Iraq?" And he said, quote, "Sir, it's worse than that", he said. He pulled out a piece of paper off his desk. He said, quote, "I just got this memo from the Secretary of Defense's office. It says, "we're gonna attack and destroy the governments in seven countries in five years. We're gonna start with Iraq and then we're gonna move to Syria, Lebanon, Libya, Somalia, Sudan, and Iran".

Look at those countries that the neocons were saying at the time they intended to use 9/11 in order to attack. It starts with Iraq, and then we're gonna go to Syria, Lebanon, Libya, Somalia, Sudan, and Iran. And of course, the United States ended up in a regime change operation in Syria. Ended up doing a regime change operation in Libya. It repeatedly bombed Somalia.

And back then there was an effort to go from Baghdad to Tehran. In fact, there were neocons who leaked to the press that 'only boys go to Baghdad, Real men go to Tehran'. To this very day, they haven't gotten that, but still want it. There's efforts right now to convince Americans that we need to go to war with Iran. Claiming that Iran was responsible for this Hamas attack. There was an article in the Wall Street Journal claiming that evidence proved Iran had planned it. Exactly the sort of thing that they did back then, claiming that Iraq was behind 9/11 in order to get us to attack Iraq, claiming that Iran was involved in order to get us to attack Iran.

But look at this plan that neocons, according to Wesley Clark, a senior general, had cooked up well before 9/11. All these countries they wanted to invade and bomb and take over, which ended up happening – except Iran, which to this very day they're still trying. In fact, they're using the current terrorist attack now to insist that it's necessary. Lindsey Graham said we should go bomb Iran's refineries right now. Nikki Haley, Marco Rubio have called for similar things. Clark said the aim of this plot was this. "They wanted us to destabilise the Middle East, turn it upside down, make it under our control."

He then recounted a conversation he had 10 years earlier with Paul Wolfowitz back in 1991, in which the then number three, Pentagon Official, after criticising Bush, for not toppling Saddam Hussein told Clark quote, "One thing we did learn from the Persian Gulf War is that we can use our military in the region in the Middle East and the Soviets won't stop us. And we've got about five to 10 years to clean up those old Soviet regimes, Syria, Iran, Iraq, before the next great superpower comes to challenge us". Clark said he was shocked by Wolfowitz's desires because as Clark put it, quote, "the purpose of the military is to start wars and change governments, it's not to deter conflicts." It's hard to overstate how pernicious these neocons are and were.

And yet the neocons are the people who are now governing the Democratic party. They're all fully integrated into it. They're in all of their media outlets. Bill Crystal and David Frum are heroes to liberal America. These are the people who first turned against Donald Trump, who tried to depict him as a unique and unprecedented evil. And yet these are bloodthirsty monsters who wanted to destabilise the entire Middle East, to bomb multiple countries using the US military for their own agenda, as Wesley Clark said "to destabilise the Middle East in order to control it."

"What did Donald Trump do that's anywhere remotely near violence and bloodshed and savagery and barbarism of this kind? All justified by 9/11. And the very same people are now out there using the attack in Israel to justify all sorts of the same things, using the same tactics. Accusing people who oppose them of being on the side of the terrorists, pro Al-Qaeda, pro Hamas. It's all the same thing. They're complete parallels."

---

More expert brains musing on the realpolitik behind the Zionist's agenda;

Watch; Multipolarity: China, Russia, Israel, India, and the difficult birth of a new world; Geopolitical Economy Report, 19 Oct 2023;

'Political economists Radhika Desai and Michael Hudson are joined by geopolitical analyst Pepe Escobar to discuss the rapidly changing global order.'

Pepe Escobar ; "the Americans thought that they were able to change the narrative about their incoming massive humiliation in the steppes of Russia by the Russians. the humiliation is not only the US but NATO as a whole. Just when they thought they could change the narrative and they could talk about something else, 'there's a new war coming and there's a war in the Middle East. Forget about Ukraine'. You all saw how Ukraine simply disappeared from mainstream media, absolutely everywhere. With the flip of a switch they fall prey to a zionist genocidal maniac. So this tells us everything we need to know about Western intelligence. they would know that this would happen, in fact they already knew that this might happen because now we know there were serious signs that something was afoot in Gaza, that Hamas was preparing something. Egyptian Intel, which has sources on the ground in Gaza, picked up the phone, called the Israelis and said, look something big is going to happen.

Nobody paid attention, IDF (Israel Defence Forces), Shin Bet, Mossad, cabinet of the Prime Minister, you name it, nobody. And this is what happened. So of course we don't have a smoking gun but this points to what let's have our Pearl Harbour moment, let's have our 9/11 moment and then we go for the final solution.

But is this the Zionist gang's final solution; let's get rid of Gaza, let's level Gaza to the ground, let's provoke an exodus, send them to Egypt. And this is where we are now, so can you imagine Russian- China diplomacy? How are we going to turn this thing around in a manner that doesn't lead these psychos in Washington even crazier than they are, not to mention their psychotic vassal in Tel Aviv.

At the same time the Iranians on another vector very politely, very diplomatically say look we don't want war with anybody, if there is a ground invasion of Gaza we will be forced to enter this war. and everybody knows what Iran entering this war is going is going to cause to the zionist entity, and not to mention Hezbollah, Iraqi militias, Yemeni militias, the Chechens, you name it, the whole of Islam, because the whole Al-Aqsa situation was the mother of all red lines for the Islamic world. So now we have on one side this maniac in Tel Aviv supported by the Americans simply fighting all the lands of Islam simultaneously.

Can they get get away with it? No. Do the Chinese and the Russians want this to happen? No. Is there a possible diplomatic solution? Only if the Americans called the maniac and say pull the plug now. They are the only ones who can actually do that. And what do we hear from the American side? We see their mega-out-of-his-depth Secretary of State going to Israel and saying, ' look I am here as a Jew'. My God, so this person was never a diplomat and he'll never be. Just this sentence he inflamed the whole thing beyond any possible limit, and there's no backtracking now and obviously there's no talk of ceasefire."

"When you compare what the West is proposing at the moment, which is basically two Wars, two fronts of the same war, with what the Chinese are doing the exact same week proposing 'Global Souths, come here, let's discuss the second stage of our great integration project'."

Radhika Desai; "I think it's clear to anybody especially to the global South if you think about it, the creation of NATO within a few short years of the creation of the United Nations was itself a signal by the imperialist countries that they wish to create an alternative agency that would essentially try to control the world. And we saw NATO come into its own after the Soviet Union disintegrated, because of course as long as the Soviet Union existed there was nothing much NATO could get up to. Although NATO is always portrayed as a cold war entity it actually should be understood as an imperialist entity. The thing about the cold war is that the existence of the Soviet Union kept NATO in check. Guess how many operations NATO engaged in during the Cold War? Exactly zero, and since then it has been continuously at war. So it shows you what the character of NATO is."

---

A third world war is in the making with the Democrats arming Israel, Ukraine and Taiwan. Global depopulation will be accomplished and the military industrial complex will be enriched.

Watch; Biden wants multiple wars, $60B to Ukraine. Middle East shuns POTUS. Brazil ceasefire; The Duran; 20 Oct 2023

Alexander Mercouris; "I don't entirely understand what exactly it was that Biden was trying to do when he went to the Middle East, but bear in mind he was going to go first to Israel and then he was going to go to Jordan and there he was going to meet with King Abdullah of Jordan and President El-Sisi of Egypt and President Mahmoud Abbas of the Palestinian Authority. All three of these people eventually refused to meet with him, and they cancelled the summit. The reason they did that quite obviously is because they saw the fact that Biden was coming to the Middle East without any kind of constructive ideas.

He (Biden) came along and gave the Israelis in effect pretty much a blank cheque to do whatever you want in Gaza. You have the absolute unconditional support of the United States. We have the US issuing large numbers of aircraft and ships and aircraft carriers and all those sorts of things to the Middle East."

"He (Biden) then says we need to find a peace solution; things that he said in the past but he says it without any sort of conviction. Then he swerves to the subject that really interests him, the one that he really cares about, which is not about this crisis in the Middle East, this entirely deteriorating and incredibly dangerous situation in the Middle East, he goes back to Ukraine and he starts talking about Putin again. He makes absolutely false analogies, as you absolutely rightly say, conflating Putin with Hamas. He admits that there are differences but you can see that ultimately his real focus always in the end is on Putin who he has this obsessive animus towards, and he talks about Ukraine and he talks about the conflict with Russia and about the importance of not losing against the Russians, even at the time you know the Middle East is on fire. It is completely bizarre and then he talks about the fact that he's going to put forward this enormous aid package to Congress and we now know the details of the aid package and in fact is $14 billion for Israel but it's $60 billion for Ukraine."

---

As Julian Assange said; if lies can start war, truth can end them. However, despite the truth being offered from many credible outlets, citizens ignore it, not least because even if we know the truth, there is precious little we can do to enforce it.

Read; The Israel-Hamas War is ALREADY Pushing the Great Reset Agenda; Kit Knightly; 20 Oct 2023

'A few days ago we published an article discussing how the Great Reset agenda is still moving forward behind the scenes, while the headlines are full of Israel-Palestine.

But it's also true that, in its thirteen days of existence, the war itself has already pushed that agenda forward as well.

CENSORSHIP

Normalising the suppression of dissent and creating a culture of fear around free expression are a major part of the Great Reset, after all, the other steps are so much easier if you outlaw inconvenient protests.

And, naturally, calls for the suppression of freedom of expression have sprouted up everywhere since the war started. We covered this in our article "Israel-Hamas "war" – another excuse to shut down free speech"

Since that article was published this campaign has gained momentum.

European Union Commissioner, Thierry Breton, sent warning letters out to every major social media platform, claiming they needed to "combat disinformation" regarding Israel and threatening them with fines.

In yet another blow to the "China is on our side" narrative, Chinese video-sharing service TikTok has eagerly agreed to "combat disinformation".

Students from Harvard and Berkeley have been threatened with "blacklisting" for voicing support for Palestine.

German and French police are breaking up pro-Palestine demonstrations, while – in both the UK and US – there are calls to arrest people for waving Palestinian flags, or deport those who "support Hamas".

Creating a culture of fear, making people afraid to express themselves or their political opinions, is just one of the many things that Covid, Ukraine, Climate Change and now Israel have in common.'

'The pandemic made it clear the elites of the world are all following the same script.

War is designed to make us forget that fact.

And if it means a few thousand people have to die in the process – so what? The West and East were both happy to kill their own people with lockdowns and toxic jabs – so why not with missiles?

They are selling worn out Cold War memes to persuade you they are not your enemy – it's those people "over there" – the Moslems, the Jews, the Russians…

…you can fill in as required.

North Korea has been blamed for supplying weapons to Hamas.

Iran is reported to have funded – even planned – the attack.

Even Russia, who traditionally strongly oppose any-and-all Islamic "terrorists", are showing signs of compromising their usual "neutrality" on Palestine. They are sending aid shipments to Gaza, and mooting ceasefire resolutions to the UN Security Council (which the US instantly vetoed, obviously).

For their trouble, Israeli MPs are threatening Russia with war live on RT.

In his address to the nation yesterday Joe Biden quite deliberately equated Putin's Russia with Hamas. Ukrainian President Vlodomyr Zelensky did the same almost as soon as the "surprise attack" took place.

The global battle lines for a supposed "world war 3" are being drawn up.

All of this feeds the illusion that huge seismic ideological differences separate these nation states, when in reality they share the vast majority of New Normal goals.

Remember that both Israel and Hamas sacrificed their people on the altar of Pfizer. Any claims to care about civilian life now – from either side – must be met with the most absolute scepticism.'

---
Russia/China Conflicts
Like the Nakba massacres and expulsions that preceded the creation of Israel, thousands die or are displaced in Ukraine and thousands more will have to live under a violent corrupt regime as the US prepares to turn Ukraine into another racist colony. Biden says the war in Ukraine is 'a good investment'. Perhaps genocide of over 500,000 dead Ukrainians will present less opposition to the corporate theft of the Ukrainians' land and resources. Pre Zelenski, as a legacy from their Soviet past, Ukrainians owned all of Ukraine in small parcels of land and GMO seeds were forbidden.
Watch: Max Blumenthal: Ukraine to become 'Big Israel'? The Grayzone,18 Sept 2023;
The Grayzone's Max Blumenthal addresses the Ron Paul Institute's 2023 Washington DC conference on the disturbing plans in Kiev and Washington to convert Ukraine into a "Big Israel," and what this means for the region and the future of US politics.
Max Blumenthal; 'Maybe the U.S should have agreed to negotiate in April instead of sending Boris Johnson to sabotage the negotiations in April 2022. Maybe more people would be alive, but that's not how business works in this town, and that's what I want to talk about today. So the conflict grinds on indefinitely, even as Ukrainians die and fail on the battlefield and Ukrainian defence minister, Dmytro Kuleba, goes on U.S TV and tells his patrons to shut up and stop giving him advice. There is a victory of sorts, and it's the victory for the Beltway Bandits, whose glass office towers we saw on our way here on Route 66 (Washington), which I call the corridor of death; Gen Dynamics, Stein Corps, Rand, Lockheed, Raytheon, BAE Systems. You can see them all on your way here and they have won; they're the winners of this war and the people they fund in K Street's neoconservative think tanks and the politicians whose legislation they author.
'Nikki Haley, who's got a future on the board of Raytheon or Lockheed, and they have actually put forward a very disturbing vision for Ukraine. And for the long term, Ukraine, as an ethno-nationalist spartan, hyper-militarised bastion, armed to the teeth by NATO, existing for years in a state of permanent war with Russia. And us the taxpayers – nothing we can do about it. Zelenski articulated this vision in a chilling statement this April. Here's what he said, "We could not talk about being a Switzerland of the future but we will definitely become a big Israel with its own face. We will not be surprised that we will have representatives of the armed forces of the National Guard in all institutions, supermarkets, cinemas, there will be people with weapons. I am sure that our security issue will be number one in the next 10 years.".
By the time Zelenski said that in April, NATO leaders were already imagining an 'Israeli-style' security agreement for Ukraine that would give priority to arms transfers and advanced technology.
'In the end democracy must first be curtailed at home. This is what big Israel means and Blinken has blocked diplomacy at every path to guarantee the consolidation of this vision over the coming months. He declared, in a speech in June, some countries will call for a ceasefire and, while ceasefires sound sensible he said, 'a ceasefire that simply freezes current lines in place and enables Putin to control territory would reward the aggressor and punish the victim'. And in the same breath, he called for long-term funding to shape Ukraine into that big Israel. What Alexander Hague said of Israel, "it would be America's unsinkable aircraft carrier, not in the Middle East but in the heart of Europe."
---
Watch; Russia's not the enemy 25 October 2023;
Good afternoon, Ukrainians and Russians. In general I watched the terrible footage from Palestine and Israel, and I realised we actually don't have a war in Ukraine, but just money laundering. You can say business is based on blood. But if you really compare the fighting in Ukraine with the fighting in the Middle East, then the myth that Russia does not comply with the laws of war melts before our eyes. I'm not making excuses for Russia now. Its just that in the end you will all understand that our enemy is not Russia.
---
It is quite extraordinary how our mainstream media can manipulate our minds to believe that the US is the good guy and Russia and China the enemy. Which one voted against a ceasefire?
Watch; Wars in the West, development in the East – Jeffrey Sachs, Alexander Mercouris & Glenn Diesen; The Duran; 22 Oct 2023; Jeffrey David Sachs is an American economist, academic, public policy analyst, and former director of The Earth Institute at Columbia University, where he holds the title of University Professor.
Jeffrey Sachs; "There is a 14 to1 vote right now in the UN Security Council. Fourteen States, including four of the five permanent States, want a ceasefire and want a political resolution of this decades and decades long Israel Palestine conflict. But the United States is using its veto. This says a lot. This says that the United States essentially is isolated on this matter, and it is because we're at the long end of a failed policy. And the failed policy is the same failure in Ukraine. It's the same failure which has united the world. And on the other side of the globe in Beijing, it is the US approach that military dominance should be used for political dominance and that this will be sufficient to run the show."
"Historical knowledge is basically non-existent and the mindset of the US leaders for many decades is essentially built on arrogance which is that the most powerful country in the world, can turn that military power into Political outcomes as desired. Well you would think after Vietnam, Cambodia, Nicaragua, Venezuela, Iraq, Syria, Libya, Ukraine, and the Middle East, the United States may have gotten that the idea is not such a great idea. Maybe diplomacy would be helpful rather than assertions of the US as the indispensable nation"
"The military contractors and their lobbyists are also hijacking a lot of US foreign policy. So that's actually part of the story as well. Lockheed, Northrop Grumman, Boeing, General Dynamics and Rathion, getting hundreds of billions of dollars of military contracts over the years and exercising extraordinary lobbying weight over US politics. One of the remarkable things we've seen in this fight over the next Republican speaker of the house in the US House of Representatives, is that the chairman of The House Armed Services Committee, who's basically the recipient of the largess of the military industrial complex, is negotiating that the incoming speaker will support proper funding for Ukraine and and presumably Israel. Meaning that you see the handiwork of the military industrial complex and the arms contractors and their lobbyists at work in the interstices of the day-to-day political machinations in Washington. That plays a big role especially in an election year and we're entering the one year 2024 right now so all eyes are on campaign contributions"
"The Chinese BRICS states seem to be looking forward, they're coming up with constructive solutions and going back to the Middle East they're actually making proposals about how to move forward to resolve the situation in the Middle East. They're calling for a ceasefire. We see Russia, Brazil and the UAE working in the Security Council to try to get a ceasefire. And now they're talking about an international conference to try to sort out the problems in the Middle East"
---
Geopolitics
Simply follow the money, not only to the military industrial complex, but to those who lubricate their trade, the banksters;
Watch; All Wars are Bankers Wars 2016, by Michael Rivero;
Inversionism Post on X;'This might be one of the most important documentaries that anyone can watch right now given current events and escalations between Hamas, Israel, Iran, and the US. All wars are bankers' wars. If you are still caught up in the left vs right, Israel vs Palestine, Ukraine vs Russia narratives, treating geopolitics and war, as if it's a football game, where you are rooting for one side to win as the real moral authority, then you need to take 45 minutes out of your day to watch this in full.
I've shared this documentary already weeks ago and a lot of people saw it and appreciated it, but I think it's now more important than ever for as many people to see it as possible and to really understand the profound and eye opening truth behind those words, and how EVERY SINGLE conflict has had powers above it funding both sides with nefarious intent behind it and a broader agenda that is not in the true interests of the people. I don't think any of what's happening right now is organic. I don't think Hamas getting into Israel to murder and capture civilians was a mistake, nor do I think the $6 billion the Biden admin unfroze for Iran in exchange for hostages before the attack was a mistake either.
They're constructing narratives right in front of us and we cannot just blindly believe them on surface level evaluation, especially when these narratives are being given by the establishment and MSM. I've said this before and I'll say it again. You need to think like they do with strategy, perception, and propagandistic motivations in mind. You need to try and understand why they are presenting whatever information to the public and for what purpose. You need to question every action, every directive, every media spin. Why is the narrative now shifting towards Biden admin causing this attack by releasing funds to Iran? Why is Lindsey Graham preemptively suggesting war with Iran in conjunction with this? What if this is designed to ensure Biden attacks Iran to cover his ass in giving them $6billion back? Also…Why was there such a huge focus of attention on anti-semitism on X (Twitter) in the weeks leading up to this attack? Was that organic? or was that planned in advance knowing there would be an attack on Israel and perceptions needed to be preemptively put in place for justifying censorship? Question everything. Assume conspiracy.'
---
Being the most honest PM, totally committed to the needs of the people of Pakistan, Imran Khan will always be a target for imperialist America. That is unless R.F. Kennedy wins the election as he promises to close all 800 US military bases and keep the military only for US defence.
Watch or listen; Smoking gun: US-backed coup toppled Pakistan PM Imran Khan over Ukraine neutrality, non-alignment
The US government sponsored a political coup against Pakistan's democratically elected Prime Minister, Imran Khan, due to his non-aligned foreign policy and neutrality in the Ukraine proxy war. Ben Norton analyses the substantial evidence. Check out some of our previous coverage: – Imran Khan: Pakistan should be non-aligned in cold war, neutral over Ukraine, applauds China: • Imran Khan: Pakistan should be non-al… – Pakistan coup regime bans Imran Khan, dissidents killed, as US eyes China ties, Israel normalisation: • Pakistan coup regime bans Imran Khan,… – US-backed coup in Pakistan overthrows PM Imran Khan over his independent foreign policy (from April 2022):
---
Censorship/Surveillance/Coercion/Corruption
The US-dominated 'world order' was originally conceived after WW2 using the World Bank, the IMF and USAID to create debtor countries and force their economies to become extreme neo liberal, free market casinos, where all state assets and services must be sold to private companies. Now the UN and WHO are using Covid, and 'Climate Change', to impose shock-doctrine global control using digital currency, advanced surveillance and global authoritarianism.
Read; The Rise of the Global Police State: What's Really Behind UN's Sustainable Development Goals? Dr Joseph Mercola, Children's Health Defense, 18 October 2023;
'The United Nations' Sustainable Development Goals claim to advance "peaceful and inclusive societies" and "justice for all," but a closer look reveals the goals are really about consolidating authority, exploiting threats to advance regime hegemony, and implementing a centrally controlled global system of digital identity system.
The United Nations' (U.N.) Sustainable Development Goals (SDG) are not about sustainability. They're tools to facilitate the implementation of a one world government. The term 'the globalist alliance' used to describe its network, is a 'global public-private partnership', or G3P. The G3P is composed of most of the world's governments, intergovernmental organisations, global corporations, major philanthropic foundations, nongovernmental organisations (NGOs) and civil society groups. Collectively, they are the "stakeholders" that are implementing the SDGs.
While No.16 SDG (SDG16) claims to advance "peaceful and inclusive societies" and "justice for all," this goal is really about consolidating authority, exploiting threats to advance regime hegemony, and implementing a centrally controlled global system of digital identity (digital ID).
A digital identity is not merely a form of identification. Your "identity" is who you are, and your digital identity will keep a permanent record of your choices and behaviours, 24/7. Universal adoption of digital identity will enable the G3P global governance regime to establish a behavioural-based system of reward and punishment.
The COVID-19 pandemic was used to redefine human rights and to get people used to the idea that the rights of individuals are conditional and can be ignored or suspended "for the greater good." The U.N. Charter establishes a global governance regime that stands against freedom, justice and peace, and all of the U.N. SDGs need to be understood within this context.
The "man made climate change" hysteria and subsequent war on carbon is another fabricated "emergency" that is unhinged from science and reality.
And the U.N. SDGs are perfectly tailored to enable the endgame. Under these goals, human freedom, human health and quality of life are sacrificed to (allegedly)"protect the environment and save the planet."
---
At one of my many (!) boarding schools we had a credit system, Alpha, Beta, Gamma, Delta. I never moved out of Delta. As much as I tried to conform to the futile rules, I failed and was forever punished by being deprived of the freedoms my peers enjoyed. I wrote sympathies to my friend in jail for her part in her partner's drug habit/offences, and she replied that jail wasn't as bad as boarding school. I feel that the future is going to be like boarding school, fun for the power freaks profiting from obedient deplorables and punishing those who chose natural food, alternative medicine and a healthy environment, justice for all, and freedom instead of malleable automatons.
Read; Bill Gates push for DIGITAL ID with $1.27 billion donation to Agenda 2030 "Global Goals";PETER IMANUELSEN; 5 OCT 2022
The Bill and Melinda Gates Foundation announced a $1.27 billion commitment to advance "Global Goals" which are the 17 goals outlined in the UN Agenda 2030.
As part of this, a ton of funding is going to push for global digital ID. Yes, Orwellian, you read that correctly. Global digital ID. Remember when that was called a crazy conspiracy theory?
A whopping $200 million will be spent to "expand global Digital Public Infrastructure" according to their website.
They say that this funding will be used to help countries with, among other things, public health threats, pandemic recovery and of course climate change. What exactly is this "global Digital Public Infrastructure" you may ask? Well let the Bill & Melinda Gates Foundation tell you! It means payment systems and digital ID among other things, just see the whole text from their website for yourself!
"This funding will help expand infrastructure that low- and middle-income countries can use to become more resilient to crises such as food shortages, public health threats, and climate change, as well as to aid in pandemic and economic recovery. This infrastructure encompasses tools such as interoperable payment systems, digital ID, data-sharing systems, and civil registry databases."
There you have it. Bill Gates is pushing hard for digital ID. Wait a minute there. Why do we need digital ID in order to help with public health threats and climate change? It certainly couldn't be that there are plans for some kind of climate change passport tied to your digital ID, that would just be a crazy conspiracy theory…Right?
But it doesn't stop there!
They also have something called "Goalkeepers". This is their campaign to "accelerate progress toward the Sustainable Development Goals (or Global Goals)".What is this "Global Goals" they are speaking of? It is actually the goals outlined in the UN Agenda 2030. You read that correctly. Bill Gates is working to implement Agenda 2030 which is a bunch of goals that the UN has, including a ton of stuff on the climate agenda.
On their website, the Bill and Melinda Gates Foundation is talking about how governments should use digital payments to women in order to achieve one of the goals on Agenda 2030, namely gender equality. I bet digital ID will come in very handy for that…More about that later! And the Bill and Melinda Gates Foundation is giving out what they call Global Goalkeeper award to people who have done good work in pushing this Agenda 2030. Guess who was awarded Global Goalkeeper for 2022? Ursula von der Leyen, President of the European Commission…
Now let's dig a little deeper into what is going on here and what exactly being a Global Goalkeeper means and how this plays into the UN Agenda 2030. And what exactly is this Agenda 2030? Many of you might not even know much about it as the media seems to more or less not talk about it.
So I will…….."
---
I won't pretend I really understand what is going on with cloud capital but if, as explained below, it is funding the transhuman tech world, the censorship, data collected without our permission and the tech Lords who are taking us to war with China to steal Taiwan's silicon chips, it is something we should be aware of – not least to avoid!
Watch; American Big Tech Has Enslaved Us; Aaron Bastani Meets Yanis Varoufakis; Novara Media; 8 Oct 2023
'In his new book, 'Techno Feudalism: What Killed Capitalism', Yanis Varoufakis explores how giant tech firms, both in the US and China are expanding their control over the planet. His analysis is that, whilst material resources certainly matter, the real battle ground is over digital real estate. Aaron sat down with Yanis to talk about how Europe's power has faded, Elon Musk's wet dreams and why the US is really afraid of China.'
Yanis Varoufakis; "if you don't have a competitor to Google, a competitor to Uber, a competitor to Facebook, a competitor to Apple, competitor to amazon.com, if every German or Italian or French or British producer has to go through those Cloud lists in order to sell their stuff, even in Europe, and you know Amazon makes $42 billion every year only in Europe and pays zero zero tax. Zero, you're gone, you're finished".
"if you're Jeff Bezos, if you are the owner of Google, of Apple, or if you're Elon Musk, then you own this new form of cloud capital which allows you to extract from the rest of society, from proletarians, and from everyone else as well, huge quantities of rents and surpluses in a manner that reconstitutes a form of feudalism. The difference is that instead of the original feudalism, which is a system based on private ownership of land which produces rent, now it's private ownership of the cloud, of cloud capital, because the cloud is capital (it's not some cloud up in the sky) which yields again a form of rent. Every time you buy something from amazon.com, 40% of what you pay doesn't go to the capitalist who is selling you that stuff, it goes to Jeff Bezos. That's a cloud rent and he is a new form of Feudal Lord"
"The United States has never recognized Taiwan because it recognized, as part of the deal between Nixon and Mao, that China has a claim to Taiwan. In my book, I try to explain what I think is new and it's the rise of cloud capital; the shift from capitalism to techno feudalism. Because, after 1971, when the gold standard died and the dollar was no longer exchangeable with gold, the United States has built its power on a remarkable model of a world system whereby the United States has a huge trade surplus which acts as a vacuum cleaner sucking into its territory the products of Chinese capitalists, Chinese labour to be precise, of German, of Dutch, of Italian, Japanese of course. And how does it pay for that? With IOUs called dollars because it prints them. And why do the Chinese, the Japanese, the German capitalist accept those IOUs, the dollars? Because they take it back to Wall Street and to invest in real estate, in bonds, effectively financing the American government.
So, that's the model since the mid 1970s and that whole model is predicated upon what? On the monopoly of the payment system of the dollar and the dollar payment system. What has happened in the last 10 – 15 years which I tried to map out in Techno Feudalism, is that the Chinese are the only alternative locus in which cloud capital emerged. Europe has no cloud capital of its own; we don't have a Google; we don't have a Facebook, we don't have a Tesla; we don't have anything. Zero. Europe, and that includes Britain. So, if you take an app like WeChat or if you take the digital currency that is being tested, massively tested, 135 million accounts by the Central Bank of China, they're developing the technology to have a payment system which is denominated not in dollars but in Yuan. This rise of Chinese techno feudalism, if you want, a Chinese cloud fief, in contradiction with the American cloud fief, explains why Taiwan is an issue."
Yanis Varoufakis; " When Lloyd's Bank or Barclays Bank give you a loan, they're not giving you money that somebody has saved. They're conjuring it up like magicians. Effectively, they type into your bank account 10,000 pounds or 50,000 or a hundred thousand pounds.
That money doesn't exist. It's out of thin air. Bankers have this right that is given to them by society, by you and me, by our listeners and audience. And then of course, while these bets work out, if the borrowers manage to make this money, and also make the money to pay interest, bankers are laughing all the way to their own banks! And then they think that they deserve the money. But then at some point, all that is needed is a small pinprick to deflate this or to burst that bubble. And then what happens? You and I, and especially the working class of our countries, bail them out, and more money-printing by central banks.
So after 2008, 2009, we had 35 trillion printed on behalf of bankers. $35 trillion. To put it in context, back in 2009, when that started, the total GDP income of the United States of America was 17-18 (trillion). So they printed 35 (trillion), and they gave it to bankers. Now, bankers wanted to lend it to business people. Business people, however, looked around at the little people out there who were suffering under austerity, who were impecunious (bust), who couldn't buy anything as if they were going to invest it.
So all this money that is being printed ends up inflating asset prices, artwork, house prices, and it never feeds into investment. That's why in Britain now, you have this ridiculously low level of productivity because there's been no investment. That's the same thing in the European Union. The only entrepreneurs that care to take some of this liquidity and not just put it back to the stock exchange, and instead use it to build up a new capital, are the tech lords.
They took the money and society, in other words, as a result of the, in name, handling by the establishment and central banks of the 2008 crisis, effectively we funded the buildup masses of cloud capital. Cloud capital would always have been built, but not at that rate. Nine out of ten dollars invested in cloud capital came from Central Bank money.
So it's, feudalism, remember the sovereign printed the money and the feudal lords used it together with their property rights over land to exploit the peasants and the vassals, which are today's capitalists who produce, in the old fashioned way, using machinery, industrial robots, without cloud capital.
And one last thing, if you want to understand the difference between Volkswagen and Tesla or Chinese cars, understand this, Tesla is connected to the cloud. That's why Elon Musk wanted Twitter. Every time a Tesla goes around, Tesla acquires enormous information about what music you are listening to while you're driving, where you're going. This is connected with the tweets that you send, and therefore the value added to Tesla comes increasingly from the Cloud and far less from the money you pay to buy the car. Volkswagen, because it's German, and Germany, Europe, Britain, France, Italy, Greece, we have not invested in cloud capital, we cannot compete because we will never be able to compete. Even our capitalists are vassals to the American and Chinese cloudalists, the owners of cloud capital."
---
In the UK we have a billionaire running our military industrial complex alongside our NHS!
Watch; UK Column News Podcast 20th October 2023
Ben Rubin's summary of;
"Witney Webb's article from Unlimited Hangout talking about Peter Thiel, the founder of Palantir, and also his work at Palantir and with a network of other companies that he's invested in.
Palantir, the CIA backed artificial intelligence specialist, is the frontrunner to pick up the UK NHS Federated Data platform contracts, the nearly 500 million pound contract to build a single integrated patient data platform for the NHS, for our health system.
The business Palantir and the person who founded it and backed it, Peter Thiel, he also sits at the nexus of this network of advanced weapons manufacturers. It's absolutely remarkable to dig into some of the stuff that he's involved in, including an $800 million contract with the US Army to create a battlefield intelligence system. A $91 million contract to develop the US Army research labs, AI and ML, machine learning capabilities, and involvement with Project Maven, which is a US Department of Defense powered project for improving drone footage and striking capabilities, which was originally won by Google. But then Google had to resign due to internal pressure from its own staff. Actually, they were basically complaining about the type of work that they were being put onto. And then Palantir picked it up.
They also created a facial recognition system being used by the Ukraine military who are actually sending images of dead Russian soldiers back to their families. It's really one of the most ghoulish things that I've heard of. Like it's incredibly vindictive by identifying soldiers and then sending images proactively to their families to tell them that their sons have died. It's just quite remarkable. There's also revealed in the article, provided significant funds to a business called Carbine 9 1 1, which is heavily linked to Israeli intelligence and was also backed by Jeffrey Epstein.
I mean, this is incredibly mucky stuff. One of the things that really jumped out at me from this is that Thiel and his businesses are taking a completely different approach to working with the military industrial complex. So the way that suppliers previously would've worked with the military is the military would specify technologies that it wanted and then go to the market to get private contractors to build those technologies. What Thiel, and his organisations, are doing is actually proactively creating more deadly weapons and thinking of ways that they can use their technologies in a more deadly fashion, and then going to the ministry to sell it to them. So they've completely reversed that relationship. I think that's absolutely staggering in the context of the fact that this guy is in the poll position to be picking up the NHS federated data platform contract. It's bad enough that they're doing it, but the idea that you would want people like this and organisations like this circulating around our health system, I just find absolutely remarkable.
There's another great quote in there from Whitney Webb which basically says The Palantir was created to be; 'the privatised panopticon of the national security state', the newest rebrand of intelligence agencies to quash dissent and instil obedience in the population. The US government there but that is absolutely how those technologies are being deployed elsewhere as well. I'll be fascinated to find out what their on-the-ground activity with Israel has been over the past few weeks in light of everything we've just seen. Which builds on what Whitney Webb's quote has highlighted. But Peter Thiel is actually an FBI informant, and so he's actively working with US intelligence agencies as an informant on things that are going on inside Silicon Valley, things that are going on in advanced technology, and also through his political connections. And he's sending that information directly to the FBI for them to use in their investigations.
So he's absolutely hand in glove with US intelligence agencies. I really just think that we have got to get to grips with whether we can allow these types of people and the organisations that they represent access to, not just our health system, but really any part of our society at all."
---
In an Orwellian nightmare scenario, a single financial entity, BlackRock, uses its huge concentration of wealth to control governments, media and 'security', aka world domination.
Watch; How Blackrock conquered the world The Corbett Report, 19 Sept, 2023;
'What is BlackRock? Where did this financial behemoth come from? How did it gain such incredible power over the world's wealth? And how is it seeking to leverage that power in shaping the course of human civilization? Find out in this in-depth Corbett Report documentary on How BlackRock Conquered the World.'
"Historians of the future will no doubt note 2019 as the year that BlackRock began its takeover of the planet in earnest.
It was in January of that fateful year that Joe Biden crawled cap-in-hand to Larry Fink's Wall Street office to seek the financial titan's blessing for his presidential (s)election. ("I'm here to help," Fink reportedly replied.)
Then, on August 22nd of 2019, Larry Fink joined such illustrious figures as Al "Climate Conman" Gore, Chrystia "Account Freezing" Freeland, Mark "GFANZ" Carney, and the man himself, Klaus "Bond Villain" Schwab, on the World Economic Forum's Board of Trustees, an organisation which, the WEF informs us, "serves as the guardian of the World Economic Forum's mission and values." ("But which values are those, precisely?" you might ask. "And what does Yo-Yo Ma have to do with it?")
It was another event that took place on August 22, 2019, however, that captures our attention today. As it turns out, August 22nd was not only the date that Fink achieved his globalist knighthood on the WEF board, it was also the date that the financial coup d'état (later erroneously referred to as a "pandemic") actually began.
In order to understand what happened that day, however, we need to take a moment to understand the structure of the US monetary system. You see (GREATLY oversimplifying things for ease of understanding), there are actually two types of money in the banking system: there is "bank money"—the money that you and I use to transact in the real economy—and there is "reserve money"—the money that banks keep on deposit at the Federal Reserve. These two types of money circulate in two separate monetary circuits, sometimes referred to as the retail circuit (bank money) and the wholesale circuit (reserve money).
In order to get a handle on what this actually means, I highly suggest you check out John Titus' indispensable videos on the subject, notably "Mommy, Where Does Money Come From?" and "Wherefore Art Thou Reserves?" and "Larry and Carstens' Excellent Pandemic," where he explains the split circuit monetary system.
The future of the world according to BlackRock is now coming fully into view. It is a world in which unaccountable computer learning algorithms automatically direct investments of the world's largest institutions into the coffers of those who play ball with the demands of Fink and his fellow travellers. It is a world in which transactions will be increasingly digital, with every transaction being data mined for the financial benefit of the algorithmic overlords at BlackRock. And it is a world in which corporations that refuse to go along with the agenda will be ESG de-ranked into oblivion and individuals who present resistance will have their CBDC wallets shut off.
The transition of BlackRock from a mere investment firm into a financial, political and technological colossus that has the power to direct the course of human civilization is almost complete."
---
After the much needed promise of de-dollarisation, this report says that actually the BRICS countries and their banks are just another financial structure in the interconnected global digital banking network.
Read; BRICS: A Window to the Light? Or the Latest Make-Believe Deception? Peter Koenig, Global Research, 26 September 2023.
'The lengthy "BRICS Johannesburg Declaration" with its 94 points, divulges the truth: It is just business as usual; a push by the globalists towards establishing a global totalitarian technocracy.
The original five BRICS all commit themselves to the UN's highly deceptive '17 Sustainable Development Goals' (SDG) and the bogus 'science' of manmade CO2-based global warming, alias climate change. Nothing in the BRICS Declaration gives the new burgeoning Truth, Peace and Freedom Movement any hope that some sort of change for the common good will come out of their pronouncements.
Author David Skripac neatly summarised the vitally important key points of the BRICS Declaration as follows:
They promise that the BRICS would pursue the WEF's and the UN's 2030 Sustainable Development Goals (SDGs),
They urgently stressed the "need to address Climate Change."
They re emphasised the importance of implementing the UN's Framework Convention on Climate Change (UNFCCC),
They reaffirmed the vital importance of the World Trade Center (WTO),
They emphasised the "vital importance of the World Health Organization (WHO)",
They remained committed to strengthening the "vital importance of Pandemic Preparedness,"
They stressed "the vital importance of digital transformation", and
They emphasised the "vital importance of carbon credits" and the green economy.
So, what is there to be expected from the original BRICS, from the New BRICS-11 – and from the coming BRICS-plus?
Again, We the People, let us wake up and take life in our own minds and hands. Let us not be fooled, confused, and divided by the deceptive strategies of the self-nominated rulers.
They will not let go. We must get out from their ever-enslaving methods to digitise, transhumanize and control us.
We can do it.
We MUST do it.'
---
Thankfully Putin appears to be against the World Economic Forum's (WEF) globalist top down dictats.
Read; Putin Warns 'Globalist Terrorist' Klaus Schwab His 'Days Are Numbered' Baxter Dmitry News; October 5, 2023
'World Economic Forum (WEF) founder Klaus Schwab is a "globalist terrorist" who is "holding humanity to ransom", according to Russian President Vladimir Putin who warned the elite that their New World Order has failed and their "days are numbered."
Russian President Vladimir Putin delivered a speech on October 5 at the plenary session of the 20th meeting of the Valdai International Discussion Club in Sochi and emphasised the tectonic and irreversible shifts taking place in the global order.
According to Putin, globalists including Schwab and his close advisors are "legitimate military targets" because they have been actively attempting to seize power illegally via a globalist coup d'etat.
Sixteen years ago, at the 2007 Munich Security Conference, Putin told Western leaders that the natural type of international system is multipolarity, clearly showing that Russia would oppose the creation of a New World Order based on the international liberal rules-based-order aggressively pushed by the globalist elite and their liberal politicians in Western democracies.
The moment of truth has come, according to Putin, and the global elite's plans for a New World Order are receding in front of our eyes while a new multipolar world, in which traditional cultures retain their heritage within their own borders, is rising like a phoenix.
Putin Outlines Six Civilizational Principles For the Post-NWO World
During his Valdai speech, Putin outlined six principles Russia wants to adhere to and offers other nations to join it. Via Sputnik:
"First, we want to live in an open, interconnected world, in which no one will ever try to erect artificial barriers to people's communication, their creative realisation, and prosperity. There must be a barrier-free environment," Putin said.
The second principle is the diversity of the world, which should not only be preserved, but should also be the foundation of universal development.
The third principle, according to the Russian head of state, is maximum representativeness: "No one has the right or can rule the world for others or on behalf of others. The world of the future is a world of collective decisions," the president emphasised.
Fourth is universal security and lasting peace that takes into account the interests of great states and small countries equally. To achieve this, it is important to free international relations from the bloc mentality and the dark legacy of the colonial era and Cold War, according to Putin.
The fifth principle is justice for all: "The era of exploitation of anyone – I have already said this twice – is a thing of the past. Countries and peoples are clearly aware of their interests and capabilities and are ready to rely on themselves, and this multiplies their strength. Everyone must be provided with access to the benefits of modern development," Putin emphasised.
The sixth principle is equality: no one should be forced to obey those who are richer or more powerful at the cost of their own development and national interests, according to the Russian president.
"The 'civilizational model' referred to in Putin's speech seems anchored on 'principles' – such as non-colonial relations; non-patronizing attitudes; respectful of diversity rooted in the diverse traditions – that will require a huge work to generate new shared international norms," according to Paolo Raffone, a strategic analyst and director of the CIPI Foundation in Brussels.
"The Western 'rules-based liberal international order' is unilateral, and it could be imposed in a specific time in history leveraging on the power and prominence of a small group of colonial powers that after the liberal model crisis and civil war (1914-1945) has been inherited by a distant but super-powerful country (US).
"In a nutshell, I can say that the 'civilizational model' approach probably aims at structuring a shared world 'software,' while the 'liberal rules-based order' has been aiming at building an imposed 'hardware' defended by 'rules' serving the financial and military hegemony."
---
Our weak, compliant, cowardly mainstream media does nothing to support Julian Assange and press freedom because they've been captured by the government and the secret service, and are afraid to speak out against government lies, crimes, surveillance and secrets.
Read; Over Assange, Britain's press prefers to serve power not media freedom Peter Oborne, Declassified UK, 18 September 2023;
'As I write Assange rots in a cell in high security Belmarsh prison, where he has been held for years. Any day now could see the WikiLeaks publisher sent to the United States for trial on trumped up espionage charges – then dumped in a US jail for the rest of his life. The consequences of such a judgement could not be more grim for free speech.
Any story which depends on obtaining documents from US government sources will become impossibly dangerous. Break another Watergate scandal? Forget it.
Let's spell this out. Julian Assange is by far the most important case involving free speech this century. No wonder the late Daniel Ellsberg, who exposed so many of the US lies about the Vietnam war, gave such powerful testimony for Assange before his death in June this year. Prevented Ellsberg, the principled former marine who leaked the so-called Pentagon papers, said that he felt a "great identification" with Assange.
So you would have expected British journalists and newspaper editors to have turned the Assange case into a cause celebre for media freedom. Wrong.The Assange story has been treated by much of the British media like an embarrassing family secret.
The Assange case proves the argument made by Noam Chomsky that mainstream media should be understood as an instrument of state and corporate power.'
---
Read; Leaking the Truth will earn you Prison like Assange Simon Ateba, Today News Africa, 22 September 2023;
'I know you would like me to smile here at the White House. But I cannot, not now. Julian Assange certainly saw what I am seeing. As he watched press briefings, he saw many lies and manipulations. Virtually every major claim was false. Everything was about protecting those in power. The truth was classified while the lies were not.
Washington is about crafting narratives and deception, not about truth and honesty. In a way, that's how the world functions.
Assange certainly understood that the only way to really get the truth out is through leaks and painstaking investigations, and publish such via non mainstream media.
Many mainstream media become part of the system. Even when they pretend to have back and forth interactions in the briefing room, their advertisers were the same, it was all a show.
Telling the truth is dangerous. You will not be part of social circles, you will have the @washingtonpost, @politico, and @thedailybeast assassinate your character through hit pieces, you will also not be called on during briefings.
Leaking the truth will earn you prison like Assange. This is because the world really functions on lies and deceit, not on truth and honesty. May God help us.'
---
Read; The Word – FREE Julian Assange – on line magazine but is also in paper form if anyone wants to distribute it.
---
It seems like a single phone call from the White House or Number 10 is enough to get the lackey platforms to 'demonetise' you. Freedom of Speech is just an empty slogan in this age of lies and deceit where, as George Orwell said, 'speaking the truth is a revolutionary act'.
Watch; Russell Brand's CANCELATION By Big Tech Is TERRIFYING, DYSTOPIAN; Max Blumenthal, The Hill, 22 September 2023;
Introduction; Following Russell Brand's allegations of sexual assault the comedian and commentator has been facing an onslaught of deep deplatforming and demonetization from various sites including YouTube, the BBC and Paramount. Plus, YouTube said, in a BBC Paramount statement to The Hill, 'We have suspended monetization on Russell Brand's channel for violating our creator responsibility policy. If the creators' off-platform behaviour harms our users, employees or ecosystem, we take action to protect the community.' The company added, 'This decision applies to all channels that may be owned or operated by Russell Brand.'
Max Blumenthal; "YouTube wants to have it both ways, they want one of their most popular content creators to remain on the platform so he (Russel Brand) continues to draw an audience to its platform. They can't do to him what they did to Alex Jones where he was completely removed. And at the same time they're demonetizing him which means necessarily, and any content creator on YouTube knows this, that his videos will receive much less traffic."
"He's not being demonetized for his content. His content supposedly adheres to YouTube's stated Terms of Service and YouTube has appointed itself the jury. It gets to be the jury because our digital commons are completely privatised. None of these charges have been adjudicated. And let's say Russell Brand is totally guilty of everything – let's say it's even worse than that, let's say he's like Leatherface and he's throwing women on meat hooks in a hellhole in some rural county in Texas – millions and millions of people will still not believe that is true because the media, and specifically The Times of London and the Murdoch press has lied them into so many disastrous situations; they lied about Jeremy Corbyn being an anti-semite day in and day out, they lied the public into the Iraq war, they lied about Gaddafi giving his troops viagra, they lied about Syrian chemical attacks to trigger Western intervention there, they lie day in and day out. The mainstream media has proven itself an enemy of the people."
---
If you dare, listen to this lunatic. An ex-Director of the CIA, he is speaking about the merits of geo engineering to ''reverse the warming effect of climate change'! Finally people might understand that the insane practice of contaminating our sky, isn't a conspiracy theory!
Watch; CIA Director admits plans for geo-engineering aka chemtrails Illuminatibot, 25 September 2023;
John O'Brennan, CIA; "Another example is the array of technologies, often referred to collectively as geoengineering, could potentially help reverse the warming effects of global climate change. One that has gained my personal attention is Stratosphere Aerosol Injection (SAI)). A method of seeding the stratosphere with particles that can help reflect the sun's heat in much the same way as volcanic eruptions do.
SAI programmes could limit global temperature increases, reducing some risks associated with higher temperatures and providing the world economy with additional time to transition from fossil fuels. This process is also relatively inexpensive. The National Research Council estimates that a fully deployed SAI programme would cost about $10 billion yearly.
As promising as it may be, moving forward on SAI would also raise a number of challenges for our government and for the international community. On a technical side, greenhouse gas emissions reduction would still have to accompany SAI to address other climate change effects such as ocean acidification, because SAI alone would not remove greenhouse gases from the atmosphere. On the geopolitical side, the technology's potential to alter weather patterns and benefit certain regions of the world at the expense of other regions, could trigger sharp opposition by some nations. Others might seize on SAI's benefits and back away from their commitments to cCarbon dDioxide reductions. And as with other breakthrough technologies, global norms and standards are lacking to guide the deployment and implementation of SAI and other geoengineering initiatives."
Must view, THE DIMMING, the most comprehensive climate engineering documentary:
---
Elon Musk is suing the extreme zionist group ADL (Anti-Defamation League), a murky, criminal organisation spreading zionist lies and propaganda to discredit critics of Israel. They also spy on many other human rights campaigns such as Greenpeace and report on them to the FBI.
Watch; Elon Musk vs ADL Palestine Declassified, 23 September 2023;
Press TV Newsreader; "The billionaire owner of the social media website X, formerly known as Twitter, is suing Israel lobby group and spy outfit, the Anti-Defamation League. Musk claims that the ADL has been lobbying companies to drop their advertising deals with X, alleging that Musk is an anti-semite. According to Musk, this treacherous campaign has led to a significant drop in advertising revenue for the company.
In an entertaining turn of events, a live conversation about the issue on the X website was interrupted by Vivian Bercovici, a former Canadian ambassador to Israel. She was supporting the ADL viewpoint when she was asked by a participant if she worked with the Israeli spy firm Black Cube. Following this disclosure, she quit the space and deactivated her account.
Long before it targeted a billionaire military contractor like Musk, the ADL had been spying on and smearing all manner of leftist organisations. It had previously been revealed that ADL actually collected confidential information on around 10,000 political activists and spied on over 700 organisations across seven cities in the US. Individuals the ADL spied on included Dr Martin Luther King and Archbishop Desmond Tutu. The ADL was also found to have sold information on anti-apartheid activists to the BOSS (Bureau of State Security) agency of the apartheid regime.
It is also well known that the ADL supplied the Israeli external agency Mossad with information it had gathered on Arab student groups in the US. Interestingly an FBI internal memo in 1969 stated the suspicion that the ADL was violating the Foreign Agents Registration Act by spying for Israel. Despite this the FBI has integrated with the ADL more and more over the years. The ADL is the largest non-governmental trainer of US law enforcement, with every single FBI agent going through ADL training.
The ADL has also employed the former FBI chief of the domestic terrorism section, Gregory Ehrie, as vice president for law enforcement and analysis. Ehrie spent a year living on the Ramot Rachel settlement in Al-Quds, Occupied Palestine, learning Arabic for the FBI."
David Miller; "They (ADL) were involved in co-publishing a report by the Centre for Countering Digital Hate, which is a British-based zionist censorship group, and we were denounced by Greenblatt (CEO of the ADL) on Twitter as being jew-haters and racists, the kind of language you'd expect from them. So this is an organisation that is dedicated to criticising supporters of the Palestinians, that's its main function these days, it didn't always do that, but that has become its main function."
Chris Williamson; "David, Amina mentioned in her report that the ADL even spied on Greenpeace for goodness sake. Are there any other unexpected targets of ADL surveillance, do you think?"
David Miller; "You'd expect from its propaganda and its publicity that it would only focus on the far right, the organisations that are engaged in plotting against the jews as a group, but of course since the beginning it has not only done that. Way back in the 1940s, before the creation of Israel, FBI files show it was spying on Arab-American groups, and it was reporting on them to the Haganah (zionist paramilitary unit) and to the forerunner of the Mossad. In fact they had people inside the ADL who turned out later to be Israeli intelligence agents. Then by the 1990s you have Greenpeace, the United Farmworkers Union, South African anti-apartheid groups, a whole range of organisations were being spied on by this organisation, and they're actively engaged in providing that information to the FBI."
---
The World Economic Forum's guru has a trans humanist vision that no one asked for and no one wants. In fact, to thrive, we need a world in which we are simply able to be human;
Watch or listen; I Read Yuval Noah Harari's Book (So You Don't Have To!) Corbett Report, 2 October 2023;
Harari; "We need to reinvent democracy for this new era in which humans are now hackable animals. You know, the whole idea that humans have, you know they have this soul or spirit and they have free will and nobody knows what's happening inside me. So whatever I choose, whether in the election or whether in the supermarket, this is my free will. That's over. How does the baboon do it? The baboon does not take out a pen and a pay piece of paper or calculator and start calculating probabilities".
Harari; "No. The entire body of the baboon is the calculator. We are probably one of the last generations of homo sapiens within a century or two. Earth will be dominated by entities that are more different from us than we are different from neanderthals or from chimpanzees. Because in the coming generations, we will learn how to engineer bodies and brains and minds"
Harari; "Again. I think that the biggest question in economics and politics of the coming decades will be what to do with all these useless people. I don't think we have an economic model for that. My best guess, which is just a guess, is that, uh, food will not be a problem, uh, with that kind of technology you will be able to produce food for, to feed everybody. The problem is more, uh, boredom and how, what to do with them and how will they find some sense of meaning in life when they are basically meaningless, worthless. My best guess at present is a combination of drugs and computer games."
James Corbet; "So, let's start with the, 'about the book' page, which is a very handy summarization, which notes that'
From Book; 'Yuval Noah Harari, author of the bestselling Sapien, a brief history of humankind, envisions a not too distant world in which we face a new set of challenges.
'In Homo Deus, he examines our future with his trademark blend of science, history, philosophy, and every discipline in between. Homo Deus explores the projects, dreams and nightmares that will shape the 21st century from overcoming death to creating artificial life. It asks the fundamental questions, where do we go from here? And how will we protect this fragile world from our own destructive powers? This is the next stage of evolution. This is homo'
James; "and here's some bullet points."
Book; 'War is obsolete.
You are more likely to commit suicide than to be killed in conflict.
Famine is disappearing.
You are at more risk of obesity than starvation.
Death is just a technical problem.
Equality is out, but immortality is in. What does our future hold?'
James Corbet; "Okay, well, an intriguing teaser for the book, essentially. So, okay, well, what does our future hold? Yuvel don't leave us hanging. Alright, let's get into it. Chapter one, which is entitled, as you would expect from this World Economic Forum minion, The New Human Agenda."
---
A new book by Claire Provost and Matt Kennard traces how the US invented the the International Center for the Settlement of Investment Disputes (ICSID) to prevent democratically elected governments from reducing corporate profits by enacting policies such as demanding corporations clean up their pollution or improving their country's health by discouraging smoking. The chill effect on governments of million $ fines prevents them from introducing laws to protect their citizens.
Watch; The Silent Coup – How Corporations rule the world w/ Matt Kennard, The Chris Hedges Report, The Real News Network, 21 September 2023;
Chris Hedges; "The US, like many industrialised countries, has undergone a corporate coup d'etat in slow motion, cementing into place a system of control the political philosopher, Sheldon Wolin, calls "inverted totalitarianism." Inverted totalitarianism retains the institution, symbols, iconography, and language of the old capitalist democracy but internally, corporations have seized all the levers of power to accrue ever-greater profits and political control.
Claire Provost and Matt Kennard in their book, Silent Coup: How Corporations Overthrew Democracy, charts the way the corporate coup d'etat was orchestrated. It examines the use of an international legal system to control and plunder the resources in the developing world, including the overthrow of governments that challenge corporate dominance. The authors expose the nefarious alliance between nonprofit organisations and corporations, one that prioritises profit rather than justice. They document the weakening of labour laws and the evisceration of workers' protections and rights. To enforce this predatory behaviour, corporations have not only created, in essence, a global Supreme Court, but raised and funded private mercenary militias to crush labour movements and intimidate, and even murder, activists.
The subversion of democracy abroad is accompanied, the authors argue, by the
subversion of democracy at home. The mechanisms of control used to plunder the developing world are also used in the industrial world. Joining me to discuss Silent Coup is Matt Kennard, a former staff reporter for the Financial Times and co-founder and chief investigator at Declassified UK: a news outlet that investigates British foreign policy."
Chris Hedges; "Matt, in your first chapter titled Democracy on Trial, you write about an international legal case that was launched by a Vancouver based company called Pacific Rim against the government of El Salvador. And you use this case as a template throughout the book for how large corporations loot and pillage developing countries by forcing them to accept international agreements, investment treaties, and what you call "corporate courts" that favour global corporations. So I want you to explain what happened in El Salvador and how this system works."
Matt Kennard; "Well, I'll start with the system itself and then talk about the El Salvador example. So, effectively, what the system is, is a shadow legal system which operates across the world and affects pretty much every country in the world. And what it does is enshrines a system whereby multinational corporations can sue states for enacting policies they don't like, which they say infringe on their, quote, unquote, "investor rights." This was a system that was created in the heat of the decolonization movement and the end of formal empire. The main body where these cases are heard is actually an arm of the World Bank and it's called the International Center for the Settlement of Investment Disputes (ICSID). Very little knowledge about it in the developed world, everyone in El Salvador, for example, knows the name of it. It's called CIADI by its Spanish acronym. And when we went to El Salvador everyone knew that, but that's something we can come back to.
So this was created in 1966 by the World Bank. And the '60s, obviously, was the time when many, many countries in Africa and other places were getting independence and a lot of people who had been fighting the imperial powers on the ground were now becoming presidents and prime ministers. Now, in that scenario, the traditional owners of the world were panicking and they thought:
How are we going to maintain control? How are we going to ensure our investments are protected when we don't have formal empire to rely on? We don't have a formal garrison of troops based in that country, where we can take out a leader if he does something we don't like?
So they came up with this system. And in fact, it was the brainchild of a German banker called Hermann Abs who was at Deutsche Bank, and he was actually associated with the Nazi regime as well. But after World War II, he thought that the world needed a system that he called a "capitalist Magna Carta." And he made this famous . . it's not a famous speech, it should be an infamous speech, but he made this speech in San Francisco in 1957 to a group of industrialists from all over the world and all the big wigs in America were there as well. This was 1957, so the context was four years before, in 1953, MI6 and the CIA had had to take out the democratically elected prime minister of Iran, Mohammad Mosaddegh, because he nationalised the Anglo-Iranian Oil Company, now BP. The following year, the CIA had to take out the democratically elected president of Guatemala, Jacobo Arbenz, because he had the temerity to redistribute a bit of fallow land back to landless peasants. And then, in 1956 there was a Suez crisis where President Nasser nationalised the Suez Canal and there was an invasion by France, the UK, and Israel.
And he was saying, look, we're going to keep coming up against this problem. We don't want to have to have a system where we have to go in hard, overthrow governments, assassinate leaders, whatever it may be. We need a legal system, an infrastructure in place where we can exercise power above the heads of these people, so even if we get a Nasser in power, an Arbenz, or a Mohammad Mosaddegh, they can't move. So his idea was to say, we need a legal system that operates above states, it's a supranational institution where investor rights can be enforced.
He then joined with a British Lord called Lord Shawcross, he was actually a Labour Lord, and they wrote this document called the Abs-Shawcross Draft Convention, and it basically was a template for this system. Nothing happened until it was taken up by the World Bank in the '60s and then created, as I said, as ICSID in 1966.
Now, we went to the World Bank Archives, as part of the reporting, in Washington DC and they were quite open on the inside about what it was about. It was about enshrining corporate power around the world."
---
Though I am not on board with the climate change NetZero narrative, I do think we should keep the oil in the soil. In fact I don't see any proof that governments or corporations will stop excavating oil which fuels their high tech global economy and makes the IPPC gang loads of money from trading Trading CO2 credits. It has just become another financial market for speculation and manipulation without any intention to reduce CO2 emissions. The scam narrative never mentions the real problems of oil that include; environmental degradation from drilling, spreading toxic oil products such as fertilisers, herbicides and pesticides on fields and on our food, polluting the ocean with plastic and causing millions of premature deaths from particulate pollution.
Read; Ask you MP to tell the trade minister: don't lock us into corporate courts with Canada!
The government is on the verge of taking the final step for the UK to join the Pacific trade deal, tying us into the risk of corporate court cases brought by corporations from a whole bloc of countries – most dangerously by notoriously litigious Canadian firms. Today, we've brought together over 30 organisations and 50 experts to call for action against this risk.
The Pacific trade deal contains the controversial investor-state dispute settlement mechanism, or ISDS, which enables fossil fuel companies to challenge climate action. Just like in the Energy Charter Treaty, which we've pushed the government to acknowledge as a risk to the green transition and consider quitting.
But now we need to tackle the threat from these corporate courts in the Pacific trade deal. The good news is that there's a simple way to remove them – some countries have already agreed between themselves to exclude ISDS from this deal. But the UK isn't going to do this without public pressure.
Can you help alert your MP to this latest threat to climate action now?
In fact, we've already pushed the government to exclude ISDS with Pacific deal members Australia and New Zealand by simply signing 'side-letters'. But the UK is leaving the door open to costly legal claims from Canadian companies, aggressive users of ISDS with a track record of 65 known cases.
They're behind one of the largest fossil fuel cases of all time: Canadian firm TC Energy, after President Biden cancelled the Keystone XL oil pipeline, is suing the US for an astronomic $15 billion!
And it's not just the threat to our ability to enact green policies – Canadian companies are the second biggest investors in English water companies, which could have costly ramifications if more regulation is needed in our troubled water sector.
---
Governments around the world come together, not for peace and prosperity as you would hope, but to pass legislation to censor criticism and debate on social media.
Watch; In 29 Days The Internet Will Change FOREVER; Russell Brand, 7 October 2023;
"Are globalist governments worldwide and big Tech Giants collaborating in order to shut down free speech and independent media and to create a totally curated sphere of reality in which dissent will be almost impossible? For example, the UK a new Online Safety Bill has been introduced that makes it essentially impossible for Big Tech platforms to encourage, house and indeed permit and facilitate voices that contradict the official narrative on a whole range of subjects including, but not limited to, health and pandemics, war and military-industrial complex matters, mainstream media and Legacy Media narratives and essentially the corporate agenda of the state.
You can add almost infinitely to this list because that's what the bill allows to happen, essentially the idea of conversation and discourse is being shut down, curated, controlled."
"Ireland is introducing a law that's yet more draconian. Every one of the five eyes countries (that's the term used by Edward Snowden to describe Australia, New Zealand, Canada the UK, the anglophonic countries). They collaborate and share each other's data in order to bypass spying restrictions in their own native land, each of them are introducing online laws that make it difficult for us to communicate openly."
"Just ask yourself this question, is there a reason that you don't trust the government, is there is there a reason you don't trust the Legacy Media, is that reason because you don't think they have your best interest at heart when it comes to pandemics, when it comes to wars, when it comes to the way they report on any story, when it comes to the way they govern the way they spend your taxpayer dollars, pounds, or whatever currency is relevant in your nation? Do you trust them anymore? Are you beginning to detest and despise them? Is there a reason for that and is that reason fundamentally that you cannot trust them because they do not tell you the truth and they do not operate on your behalf?"
---
Covid/Vaccines Scam and Pandemic Treaty
86 days and still no date for this parliamentary debate…

We only have until 1st December to reject the IHR amendments adopted last year. Are they trying to delay the debate so that it's too late?@Togetherdec @ukmfa1 @UKcitizen2021 #IHR pic.twitter.com/yfHSoPLRNG

— Dr Tess Lawrie (@lawrie_dr) October 18, 2023
---
Rebekah Barnett (on X): Meme: House of Commons, where the empty benches say 'Reserved for members sponsored by Pfizer'
— Rebekah Barnett (@dystopian_DU) October 21, 2023
---
Andrew Bridgen speaks in the first debate on vaccine deaths in the House of Commons.
Watch; Andrew Bridgen's Parliamentary speech on excess deaths Dr John Campbell, 20 October 2023;
Andrew Bridgen MP;
"There were just over 14,000 excess deaths in the under 65 year-olds before vaccination from April 2020 to the end of March 2021. However since that time there's been over 21,000 excess deaths, ignoring the registration delay problem. The majority, 58% of these deaths, were not attributed to Covid. We turned society upside down before vaccination for fear of excess deaths from Covid. Today we have substantially more excess deaths, and in younger people, and there's complete and eerie silence, Mr Deputy Speaker.
The evidence is unequivocal. There was a clear stepwise increase in mortality following the vaccine rollout. There was a reprieve in the winter of 2021-22 because there were fewer than expected respiratory deaths, but otherwise the excess has been incessantly at this high level. Ambulance data for England provides another clue. Ambulance calls for life-threatening emergencies were running at a steady 2,000 calls per day until the vaccine roll out. From then it rose to 2,500 daily, and calls have stayed at this level since. The surveillance systems designed to spot a safety problem have all flashed red, but no one's looking. Claims for personal independence payments for people who've developed a disability and cannot work rocketed with the vaccine roll out, and it's continued to rise ever since."
"Furthermore, data that has been used to sing the praises of the vaccines is deeply flawed. Only one Covid-related death was prevented in each of the initial major trials that led to authorization of the vaccines, and that is taking their data entirely at face value, whereas a growing number of inconsistencies and anomalies suggest we ought not to do this. Extrapolating from that means that between 15,000 and 20,000 people had to be injected to prevent a single death from Covid. To prevent a single Covid hospitalisation over 1,500 people needed to be injected. The trial data showed that 1 in 800 injected people had a serious adverse event, meaning they were hospitalised or had a life changing or life-threatening condition.
The risk of this was twice as high as a chance of preventing a Covid hospitalisation. We're harming one in 800 people to supposedly save one in 20,000. This is madness, the strongest claims have too often been based on modelling carried out on the basis of flawed assumptions."
Excellent analysis of the above speech and the minister's response in UK Column 23rd Oct 2023.
Office for National Statistics: Deaths registered weekly in England and Wales, provisional: week ending 06 October 2023
Office for National Statistics: Half a million more people are out of the labour force because of long-term sickness
Health Advisory And Recovery Team (HART): Trends in Excess Deaths, 20th October 2023
---
Now that the vaccine has been definitively proven to be neither safe nor effective, we need the right to say no to access to our bodies. How do we exert influence when the UK government will not release the names of MPs who are negotiating with the World Health Organisation (WHO) on Britain's behalf.
Watch Twitter; The Pandemic Treaty to achieve domination over every citizen who will be deprived of the right to say no. 20th Oct 2023
Meryl Nass transcribed in full; "The WHO is developing, through all its nations, but with the WHO director in the United States in charge, a Pandemic Treaty, and amendments to the existing international health regulations, that will remove the human rights protections currently embedded in the IHRs. It will enforce surveillance, censorship, get rid of freedom of speech, require governments to censor and only push a single narrative.
Also, we will be subject, if they can make this work, to vaccines developed in a hundred days, which the organisation CEPI is planning to do. And one of the people who founded CEPI was Jeremy Ferra, who is now the chief scientist at the WHO to bring this forward. Other things that the amendments do, is to bind the state so they are no longer recommendations, but enforceable edicts, provide a liability shield, get rid of intellectual property rights, move supplies from one country to another, enforce digital passports.
And the director-general of WHO can demand that a pandemic or a potential pandemic exists. He can just declare it with no standards and then countries around the world will have to obey. Also the WHO will tell you what drugs you can and can't use in your nation once a pandemic is declared. Obviously the budget will increase. One Health is another part of this. One Health is a concept that was created to enable the WHO with these documents, to take over jurisdiction of everything in the world by saying that climate change, animals, plants, water systems, ecosystems, are all central to health. Also embedded in this concept is a peculiar notion that humans are no longer of greater value than animals. And I've got the quote there from the Lancet in January."
---
Watch; WHO Pandemic treaty danger; Dr. John Campbell; 12 Oct 2023
Health and Democracy Conference, EU Parliament Strasbourg, 13 September, 2023;
Philipp Kruse, one of the lawyers involved in citizens' initiative gives a speech at the European Parliament for the ECI citizens initiative to challenge the WHO on their pandemic treaty and the Powergrab of the World Health Organisation (WHO).
---
Watch; James Roguski: Deep Dive on WHO Plot to Take Over the World! By Geopolitics & Empire, October 17, 2023
'James Roguski discusses the plot to take over all nations through a framework convention and how the core issue stems from the 1969 World Health Assembly (WHA) and the illegitimate manner in which the International Health Regulations (IHR) were passed. He describes the stealth techniques and Delphi method used by various actors who are attempting to ram through totalitarian legislation all the while violating international law. He still holds out hope some leaders will reject the upcoming IHR amendments but the onus is now on citizens to pressure their governments to put a stop to this.'
---
Excellent video showing news clips and headlines about how the vaccine, once reported to be 100% effective, over time was slowly but surely reported to be neither safe nor effective.
Watch; "The Vaccine is 100% Safe and Effective" as media clips show how the story changed from 100% safe and effective to not safe or effective at all.
---
The arrest of this highly acclaimed lawyer shows the state of totalitarian rule today when experts who speak truth to power are subject to arrest – very scary.
Read; Free Reiner Fuellmich! ANA MARIA MIHALCEA, MD, PHD; 18 OCT 2023
I am reposting Peter Koenig's article about Reiner Fuellmich's arrest. I am still in shock to hear this news. Reiner has been our ally and a great freedom fighter who has helped awaken the world and has relentlessly fought for justice. Germany is a very challenging place to be now, as we know of a Judge (!) who was sentenced to 2 years of prison for his ruling of mask mandates. Germany looks more like pre WW2 by the minute. Please send thoughts and prayers for Reiner's protection and release.
I have been interviewed by Reiner for the ICIC – International Crimes Investigative Committee: Nanotechnology: Self Assembly structures in mRNA-injections with: Dr. Ana Mihalcea, Karen Kingston, Dr. Nixon, Shimon Yanowitz, Dr. Mike Yeadon, and he has recently joined us on our Ban the Jabs symposium with National ARM.
Free Reiner Fuellmich!
The famous lawyer, Dr. Reiner Fuellmich, founder of the International Crime Investigative Committee (ICIC), formerly the German Corona Commission, was deported last Thursday, 12 October, from Mexico City to Germany, to be arrested for alleged financial irregularities at arrival in Frankfurt, on Friday, 13 October. He was immediately put in pre-trial detention.
In Mexico, Reiner had to consult with the German embassy for passport issues and, to his shocking surprise, was immediately arrested and flown to Germany – accompanied by two guards, no personal belongings, no clothing, not even a toothbrush. His wife is not accused and was allowed to remain in Mexico.
From Frankfurt, Dr. Fuellmich will eventually be transferred next week to Göttingen, where he will be kept for an undetermined period in pre-trial detention because they unjustly suspect him of attempting to escape.
His confinement was based on a 30-page arrest warrant written already in September 2022.
He is falsely accused for financial fraud, precisely by those people who themselves have questionable criminal records and who supposedly worked with him during the 2+ years Dr. Fuellmich was running the German Corona Commission from Berlin.
Dr. Reiner Fuellmich will be defended by two excellent lawyers, Dr. Dagmar Schön and Dr. Katja Woermer. They filed immediate counter-accusations against the predator-accusers.'
They are asking that letters be sent to him at the prison to show how much support he has.
https://truthsummit.substack.com/p/revision-re-sending-mail-to-reiner-fuellmich
Free Reiner Fuellmich! by Peter Koenig, Global Research October 18, 2023

---

Anyone who thinks the Covid 19 vaccine is either safe or effective could read…

Read; 1,000 peer reviewed articles on "Vaccine" injuries; Dr Mark Trozzi; September 28, 2023

'Here is an ultimate and organised library to empower research, back up lawsuits, support criminal charges, or effect political change. It's also abundant proof for anyone who is still buying the "safe and effective" claim, but is willing to look at the evidence. Please bookmark and share this page for ongoing reference.

Thanks to the community at CovidVaccineInjuries.com for their astronomical research compiling the basis of this visualised and indexed resource.

Our website and content output requires significant human resources to maintain, and we rely on community funding to remain operational. Please consider making a donation towards our cause. We appreciate all contributions.'

---

'Dr. Rath has been devoting his life to redirecting the current national healthcare systems towards the prevention of disease and thus to creating the conditions for their demise.In doing so, Dr. Rath, his research team and the whole organisation stand in clear opposition to conventional approaches, which—because they are limited to alleviating symptoms—tacitly accept the long-term expansion of diseases.'

This is an incredibly interesting interview with Dr Mattias Rath whose VitC and Lycine I took to help cure my breast and lymph node cancer. My neighbour had identical cancer and the same oncologist who gave her the same chemo treatment. My oncologist said that he had not known anyone so healthy during chemo but he refused to share the complementary medicine advice with his patients. Sadly my neighbour died. Dr Rath has cured Lyme disease with vitamins. Here he speaks about how vitC can be used to treat the coronavirus.

Watch; Blue Tiger Video Interview With Dr. Matthias Rath; Published by Paul Anthony Taylor, 25 June 2021;

"Dr. Matthias Rath talks to Tom Zwitser from the Blue Tiger Europe team as part of its 'Philosophy in Times of War' series. Revealing the truth about the criminal nature of the pharmaceutical industry and its role in the perpetration of two world wars, Dr. Rath describes the function of the Brussels EU as the politburo for German patent laws and explains why stakeholders of pharmaceutical interests are actively preparing for a new global conflict. Published at a time when the people of the world are urgently seeking answers to the coronavirus crisis, this interview is essential viewing for anyone who wants to understand the bigger picture behind the Dr. Rath Health Foundation's global mission of 'Health for All'.

As Dr. Rath explains in this interview, in the future there will hopefully be a greater worldwide awareness of the need to limit the power of pharmaceutical interests by finding new ways to incentivize technological development and progress in the field of health, but without the downsides that come through the granting of patents on the human body and food. Stressing that achieving this will be a real challenge for humanity, Dr. Rath makes the point that reflecting on these things peacefully and finding solutions are the only ways we can prevent another military escalation from occurring.

Dr. Rath also explains that these current times are not just about the coronavirus. Instead, the pandemic and the way in which pharmaceutical interests are benefitting from it are simply an expression of the transitional period in which we are living. Nevertheless, he says, we need to be fully aware that these interests are actively preparing for another global conflict. We must therefore expose them, speak the truth, and open up the facts of history. The only peaceful way to do this is through education.

As Dr. Rath describes at the end of this interview, every study that shows the benefits of micronutrients to human health, every car that is powered by solar energy, every organic garden that is planted, and every school class that teaches nutritional health is a nail in the coffin of pharmaceutical, chemical, and petrochemical interests and a contribution to world peace.

We urge you to watch this important interview, share it widely, and do everything you can to work towards a healthier, more peaceful world."

---

Read; Researchers Find COVID Vaccines Causally Linked to Increased Mortality, Estimate 17 Million Deaths; Megan Redshaw, Epoch Health, 28th September 2023.

'A new scientific report challenges the idea that COVID-19 vaccines have prevented deaths after researchers assessed all-cause mortality in 17 countries and found COVID-19 vaccines did not have any beneficial effect on reducing mortality. Instead, researchers found that unprecedented peaks in high all-cause mortality in each country—especially among the elderly population when COVID-19 vaccines were deployed—coincided with the rollout of third and fourth booster doses.

The report, published on Sept. 17 by Correlation Research in the Public Interest but not yet peer-reviewed, quantified the vaccine-dose fatality rate (vDFR) for all ages—which is the ratio of inferred vaccine-induced deaths to vaccine doses delivered in a given population. After analysing mortality data, the researchers calculated a mean all-ages fatal toxicity by injection of vDFR of 1 death per 800 injections across all ages and countries. This equates to 17 million COVID-19 vaccine-related deaths worldwide from 13.25 billion injections as of Sept. 2.'

---

Rand Paul is one of a very few politicians with a conscience who puts justice and the truth before career and financial gain.

Read; Rand Paul Accuses Fauci of Leading the 'Great COVID Cover-Up; John-Michael Dumais; Children's Health Defence 20 October, 2023;

'In his new book, "Deception: The Great COVID Cover-Up," Sen. Rand Paul (R-Ky.) details the "catastrophic failures of the public health emergency during the pandemic."

Addressing the gain-of-function research funded in part by the U.S. government, Paul claims Dr. Anthony Fauci and "his scientific yes-men" not only knew the SARS-CoV-2 virus originated at China's Wuhan Institute of Virology (WIV) but worked to cover it up and attack anyone threatening to reveal the truth.

Paul also covers the lockdowns that came at Fauci's insistence, at the cost of what Paul said was widespread economic destruction and great personal suffering by millions.'

"Covid-19 was deadly, but the real killer was the cover-up, led by America's most durable medical bureaucrat — a man for whom the truth was too often expendable," according to the book description.

In an interview last week discussing his book with Jack Posobiec on Real America's Voice, Paul recalled his contentious back-and-forth with Fauci during congressional hearings and his referrals of Fauci for criminal prosecution to the U.S. Department of Justice.

He also noted the conflicts of interest that Fauci was unwilling to reveal.

"When I asked him directly under oath whether or not he was receiving royalties from any of the companies manufacturing vaccines, he refused to answer," Paul said. "You shouldn't be allowed to be voting on a committee if you're receiving money from the companies that are going to make billions of dollars because of your decision."

When Fox News' Sean Hannity asked Paul in a recent interview whether Fauci belongs in jail, he answered, "Without question."

Paul told Hannity that Fauci and his cohorts were deceiving the public with their comments on the virus' origins.

"In public he's saying, 'Oh, if you say it came from the lab, you're a conspiracy theorist, you're crazy, it's a fringe theory,'" Paul said. "But in private, he's saying … 'We're very concerned because the virus appears to be manipulated … and because we know they're doing gain-of-function research in Wuhan.'"

Robert F. Kennedy Jr., Children's Health Defense founder and chairman on leave, explores this topic in his soon-to-be-released book, "The Wuhan Cover-Up: And the Terrifying Bioweapons Arms Race."
Please donate
Forgive me for pointing out that, while we receive some one-off donations, I am funding Farms Not Factories myself, and if we are to continue to fight the cruel, antibiotic-led factory farm system, we will need some regular donations from like-minded people. Please consider a monthly subscription of £2/month and help us support a network of smaller scale, humane and healthy UK pig farms, local abattoirs and butchers.
"Our message is simple, we want to help bring an end to this dangerous, inhumane system. Vote for real farming over factory farming."
– Tracy Worcester, Director
The purpose of my newsletter is to give you important information that is censored in the mainstream media. If you… Read More
The purpose of my newsletter is to give you important information that is censored in the mainstream media. If you… Read More
The purpose of my newsletter is to give you important information that is censored in the mainstream media. If you… Read More
The purpose of my newsletter is to give you important information that is censored in the mainstream media. If you… Read More
The purpose of my newsletter is to give you important information that is censored in the mainstream media. If you… Read More
The purpose of my newsletter is to give you important information that is censored in the mainstream media. If you… Read More